Because I get a lot of questions from my clients on this topic, I decided to write a post all about shower niche shelves (shower shelf inserts that you can install in your tiled shower niche).
I'll be discussing the most popular shower niche shelves, which I've arranged from best to worst (in my opinion).
This is Steve from SKG Renovations with another addition to my shower remodel series.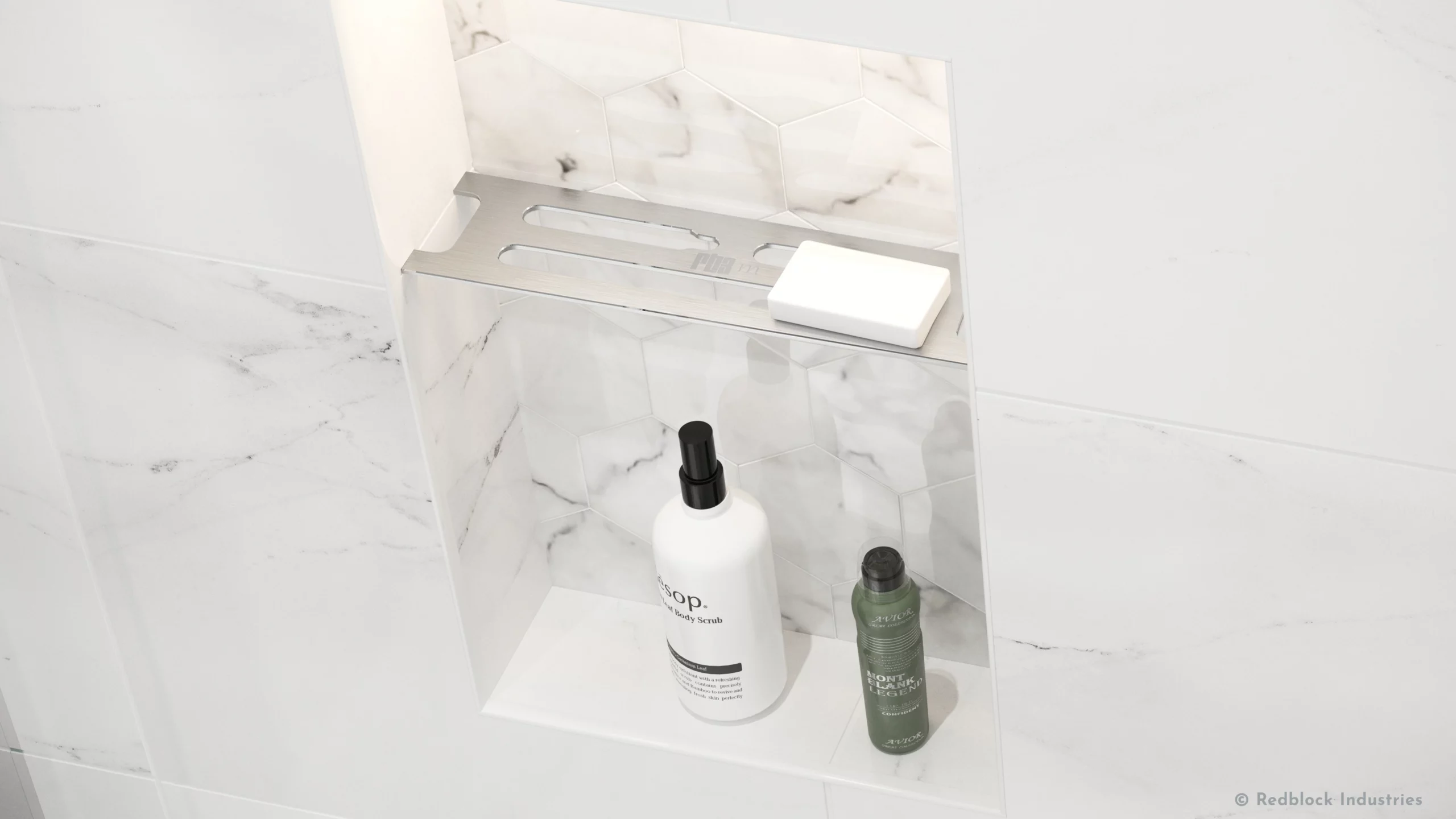 Topics
Stainless Steel Shower Niche Shelves
Natural Stone Shower Niche Shelves
Glass Shower Niche Shelves
Tiled Shelves for Shower Niches
Stainless Steel Shower Niche Shelves
These types of shelves are often call shower shelf inserts because they're specifically designed to fit (insert) into certain preformed (prefabricated), tile-ready shower niches. They are also often referred to as built in shower shelves.
I personally think these shelves are the coolest of all the built-in shower shelves.
Stainless steel is also the very best shower shelf material (in my opinion), especially if you're lucky enough to get one made from #316, Marine Grade stainless steel (more on this later)
Most of my clients also like these shower niche shelf inserts because they have a very low profile, a bold and attractive look, and are very practical to use.
I've lost count of the number of times I've been asked by my clients to suggest a thin, modern built in shelf for their tiled shower niche. I've had so much trouble finding any quality options that I eventually decided to make one myself – the Redblock rb3 shower niche shelf.
The rb3 shelf is a little narrower than the Schluter Shelf-N because it's designed to mount about 1/2″ away from the back of the niche (see rb3 image below).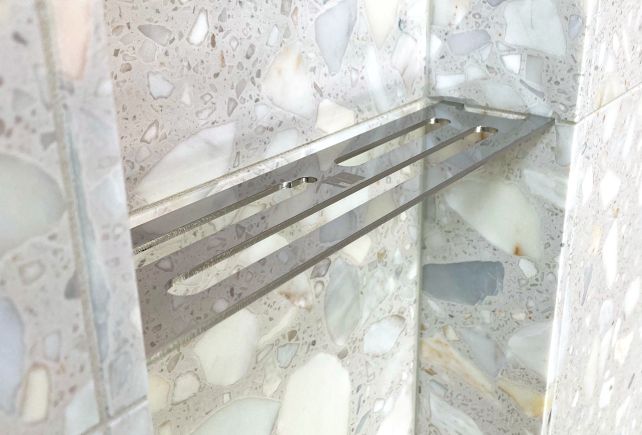 The Schluter niche shelf ( also a shower shelf insert ) is as deep as the shower niche that it's designed to fit into (Kerdi-SN), so it mounts right into a grout line at the back of the niche.
This isn't great in my humble opinion, because it makes it difficult to install a different "feature" tile for the back of the niche. It's also difficult to keep the back corners clean and dry, so it tends to get a bit soap scummy and moldy in the corners.
However, both shelves are very sleek and modern looking. They both provide a nice contrast to most shower wall tile and also match well with the metallic finish of most shower fixtures.
Another couple of great features of these built in shower shelves is that your soap will never again slip off the shelf onto the shower floor or turn into a gooey mess from standing water.
If you'd like to see a fine example of the rb3 shelf being installed into a custom tiled shower niche, you can check out my How to Build a Shower Niche post.
Natural Stone Shower Niche Shelves
Natural stone shower niche shelves are a great option as long as they match fairly well with your surrounding shower wall tile.
The most popular stone shelf is made of marble because the muted grey and white tones are popular right now, and it's fairly easy to cut and polish.
Ease of polishing is an important feature because it allows you to create an attractive sill that stands out proud of the wall. A very popular look.
This option is also attractive to the DIY'er because stone shelves can be relatively cheap and easy to fabricate if you can get your hands on some scrap material (more on that in the stone corner shelves section below).
However, I always warn my clients that they must be aware of the fact that marble is relatively soft and porous so it can stain and scratch quite easily.
Staining can largely be prevented if you seal your shelves once a year with a good stone sealer.
Scratches, on the other hand can be difficult to remove but they are also very rare in the shower environment, so generally not a big concern for most of my clients.
Granite shelves are a lot more rare because they are difficult to cut and polish but mostly because their coloration is too dark and too busy for most people's taste.
Glass Shower Niche Shelves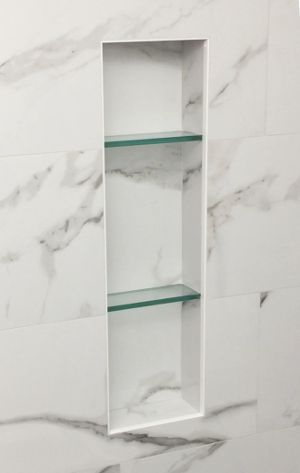 The glass shower shelf insert is one of the most popular built in shower shelves simply because it's quite thin (usually 6 or 10mm width) and subtle in appearance. As such, it allows the niche to blend in more with the surrounding tile.
And if you've chosen to install a feature tile at the back of your niche, the tile design can be more easily seen with a clear glass shelf.
When you start looking around for glass shower niche shelf options you'll find that the cheapest glass has a slight green color to it (especially on profile). For those that don't like this green hue there's clear glass available as well, but it's a fair bit more expensive.
As nice as glass shower niche shelves might look in your newly tiled shower niche, I get a fair number of complaints about how bar soap seems to end up on the shower floor because the glass is so slippery. They also complain that water doesn't drain away so the glass tends to get really messy as your soap dissolve away.
One last important hint if you're planning to install a glass shower shelf insert, is to make sure you (or your contractor) order tempered glass.
No matter how unlikely it is that you might break your glass shelves, you should not take the risk of installing untempered glass. An injury from broken untempered glass can be severe.
Tiled Shelves for Shower Niches
Since I install prefab foam shower niches in many of my shower remodel projects, I'm often asked if there's an alternative to the large and clunky tiled shower shelf insert that usually comes with the larger foam tiling niches.
I'm referring to the built in shower shelf that's supplied with most of these niches. It's a 2″ wide block of foam that has a tiling membrane bonded to its surface (see below).
After this shelf is tiled, it measures more than 3″ thick. In fact it doesn't really end up looking like a shelf at all. It effectively splits the niche into two separate sections; more like two separate niches.
The biggest problem is that this shelf effectively eliminates a lot of the interior storage of your preformed foam shower niche. As such, most of my clients prefer to install a lower profile shelf instead.
Wrap Up
In my experience, most of the clients I work with don't like the standard tiled shelf option for their shower niche, but even more aren't really aware of any other option. That's why I thought this post might be helpful for some of you. I hope you got something out of it.
And make sure you leave me a comment or question about anything shower shelf related. I always look forward to hearing from you guys.