If you're interested in building your own custom tiled shower niche, look no further!
Hello again. This is Steve from SKG Renovations with another Redblock Shower Build post.
In this post I'm going to show you how to build a shower niche. But not just any shower niche – a floor to ceiling, 11 inch wide vertical custom shower niche (storage recess) using Wedi Board tile backer board, finished with composite marble tiles and stainless steel shelves (see an image of the finished niche directly below the video).
With my easy to follow, step by step instructions (and video), you'll be building a super cool designer niche that'll make your friends and neighbors green with envy!
If by chance you wanted to know more about shower niches in general before you embark on this project, you can always check out my Shower Niche Guide.
How to Build a Shower Niche – Complete Video
Finished Niche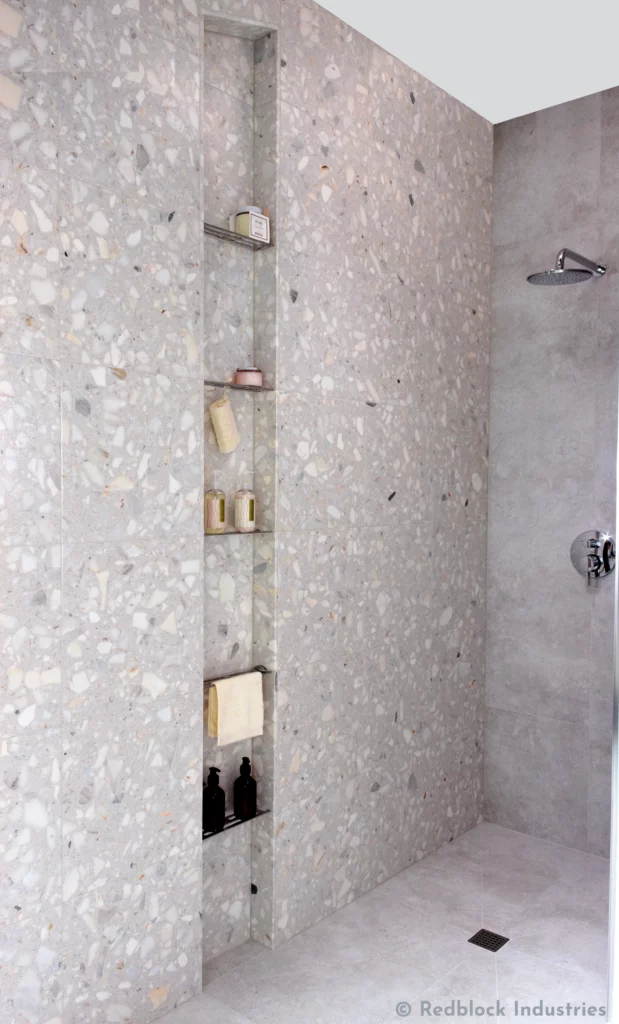 Finished Niche
Overview
You can see how nice the finished niche turned out in the adjacent image. I'm pretty darn happy with this one.
The above video shows the shower niche build from start to finish, but I would recommend that you go through each section (below) to get all the important details. Use the list to jump to any step in the construction.
Although I ended up moving this niche a couple inches to the right, to line up with the edge of the shower base, this niche fits perfectly into an existing 14 1/2 inch stud bay, with no major structural wall modifications.
Good Luck!
Contents
Step 1: How to Build a Shower Niche – Height & Placement
In the beginning of this project, my client asked me about the advantages and disadvantages of horizontal shower niches vs vertical shower niches, and which would be better to incorporate into her shower project. My answer was mostly about the framing advantages.
My suggested was to build a vertical shower niche instead of a horizontal niche, simply because I could achieve the storage she wanted and keep the niche neatly tucked away within the existing stud wall without the need for the complicated extra framing and risk associated with horizontal niches.
My client agreed that the vertical design was the best option because she did not want any major structural changes and her storage objectives could easily be achieved with a vertical design and multiple shelves.
We also decided on a floor to ceiling vertical shower niche because she wanted a considerable amount of shower storage, but also believed we could achieve the look of a high-end architectural shower wall storage recess rather than just a simple shower niche.
Then we talked about placement.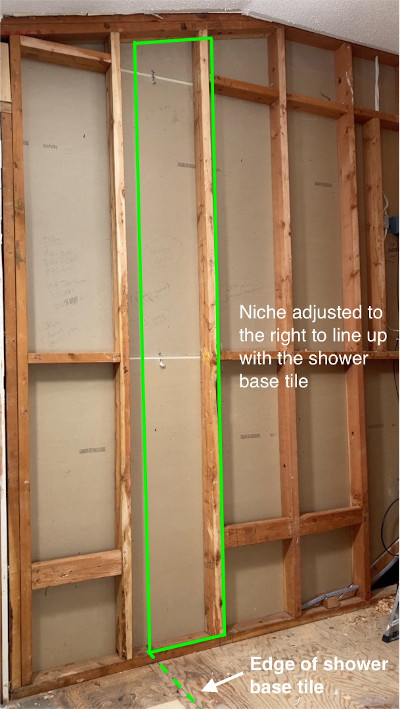 The obvious placement was within the longest shower wall, far enough out from the valve wall so it's still within the footprint of the shower pan, still within easy reach, and out of the "splash zone".
The width of my framed niche opening ended up to be 13 inches, reducing to 12 inches after backer board install, and further reducing to around 11 inches after the tile is installed. It's finished depth, 3-1/2 inches with a height of 9 feet (just below the top wall plate).
Luckily this shower was not bordered by any exterior walls so I didn't have to worry about applying additional waterproofing and insulation. If you're planning to build your custom tall shower niche in an outside wall, you should read my Shower Niche Install Mistakes post.
If you were intending to build a vertical niche that doesn't extend from floor to ceiling, you'll need to decide on the height of your niche (off the floor) as well as the interior height of your niche.
You also don't need to build your niche with a 12 inch rough opening like I did.
It would be difficult to make it any wider (unless you altered the standard stud bay width of 14 1/2″ which I do not recommend), but you could make it narrower. I decided on this width because of the 12 inch stainless steel shelves that my client decided to install.
If you're planning on building a smaller niche, it might be helpful to read my Shower Niche Sizes post and my Shower Niche Height post.
Step 2: How to Build a Shower Niche – Framing
Since I wanted to line up the outer edge of niche with the edge of the shower base tile, the first thing I needed to do was to determine where the edge of the shower pan would end up.
From these measurements (and some frustrations with a wonky stud wall), I realized that I needed to move the R side stud a little to the right, to allow my new niche to line up with the edge of the shower base.
I decided to remove this stud (instead of moving it to the right) because it was super warped and it was going to take too much time trying to straighten it (see image).
But before I could remove the right side stud, I needed to cut some horizontal braces in the right hand stud space.
Task 1:
Cut the horizontal stud braces on the right side of the niche, then remove the right side stud.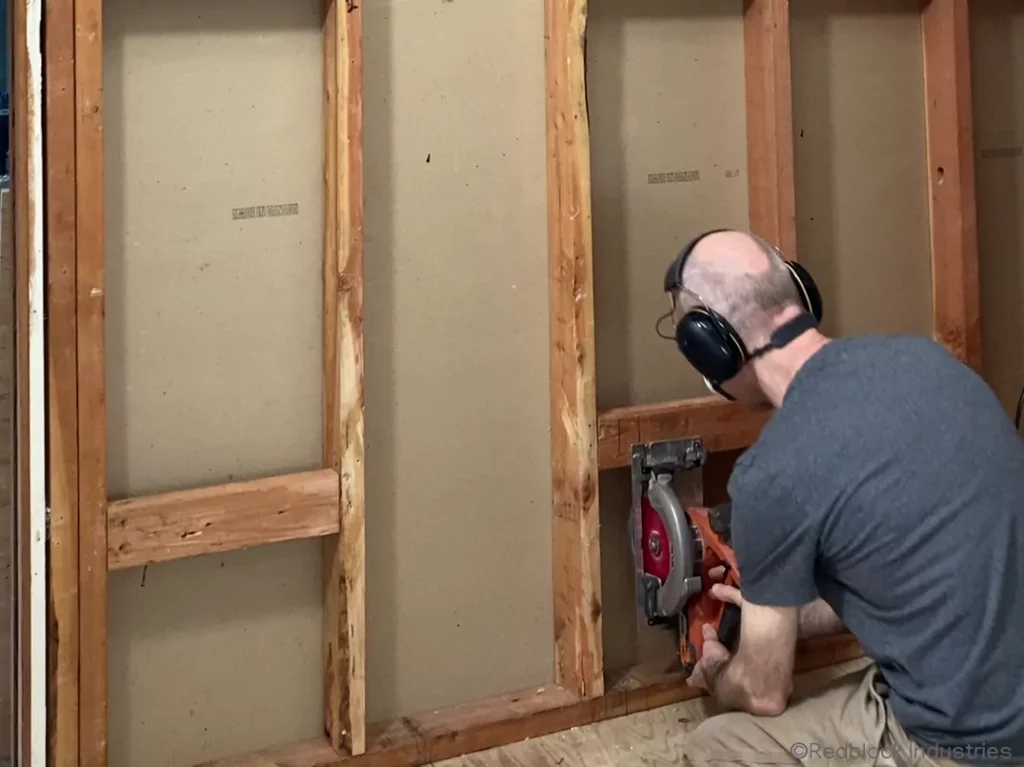 And because this new niche will be floor-to-ceiling, I needed to make sure that both sides of my niche were framed with solid, double stud, structural posts.
Task 2:
Frame the left and right sides of the niche opening.
I decided to move the niche a little to the right, but even if you don't need to do this, you'll still have to install another framing member (or strips of plywood attached to the stud) to reduce the stud bay width (or niche width) to around 13 1/8 inches. This will give you the required 12 inch width after the Wedi board is installed in the niche interior (later step). Just make sure that both sides of your new shower niche are as plumb and straight as possible.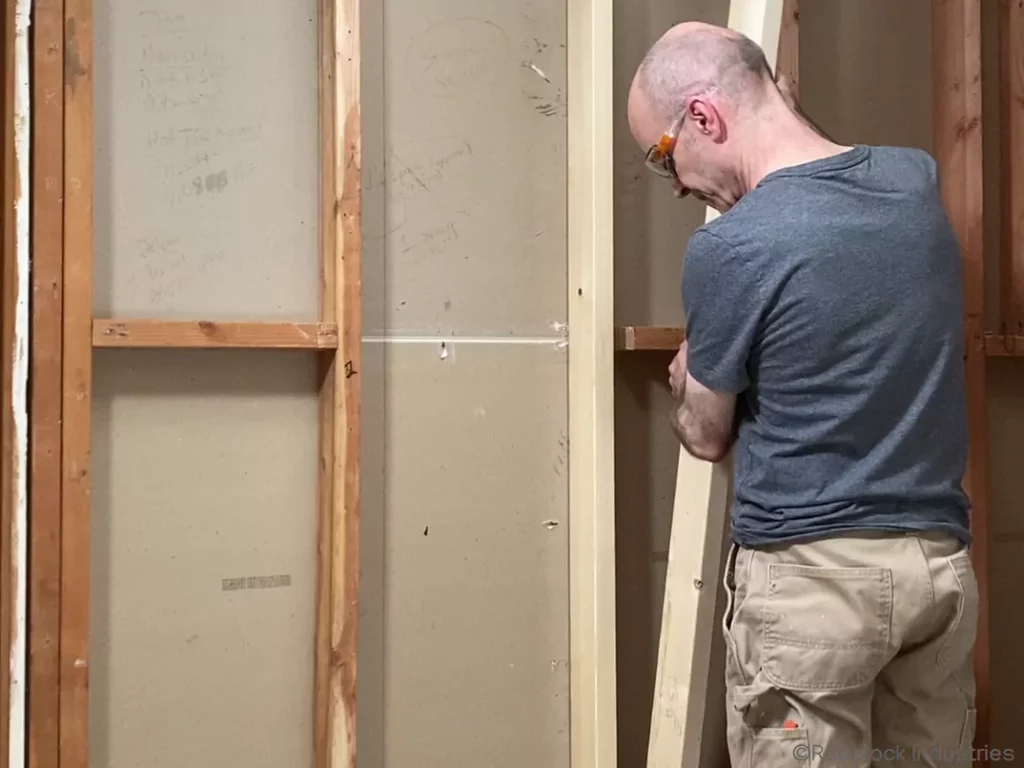 The last part of the niche framing that transforms this humble niche into a spectacular "curbless" niche, was to remove a section of the wall plate below the niche.
This was a bit of a delicate procedure because I had to ensure that I don't damage the drywall on the other side of the wall, but it worked out very nicely as you can see in the video.
Another option:
Of course if you prefer to keep the bottom plate intact, that's definitely an option. This will not achieve the "curbless" niche look that I was shooting for in this shower design, but you can certainly do it if you prefer that look.
And if you prefer to position the base of your niche a little higher off the floor still, you'll obviously need to place at least one horizontal stud brace at the bottom of your niche for support.
I would recommend that you slope this stud brace 1/16 inch from back to front, so you don't have to mess around with sloping the backer board or base tile. The latter is more work and more hassle.
If you go this route, you'll also have to install a piece of 1/2 inch Wedi board on this stud brace to create the base of your shower niche.
Task 3:
Cut out a section of the bottom plate below the niche.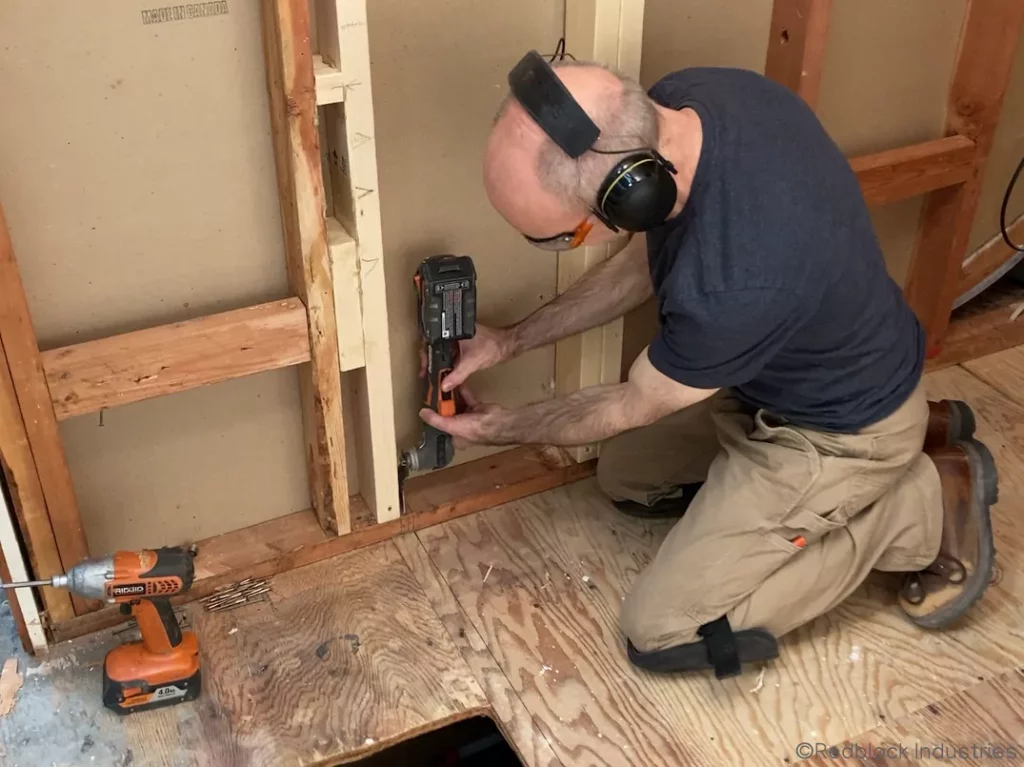 Step 3: How to Build a Shower Niche – Backer Board Installation
One of the best things about using Wedi Board in this shower niche was that it serves as both a backer board and a waterproofing membrane. This saved me the time and hassle of applying a waterproofing membrane inside (and outside) the niche.
If my explanation above is a bit confusing, and you're not too familiar with the differences between tile backer boards, feel free to check out my Shower Tile Backer Board post.
I decided to install the foam backer board in the niche first (before attaching the panels to the shower wall), so the seams between the niche side panels and the wall panels face the inside of the niche. You can see from the video exactly what I mean by this.
Task 1:
Cut and install the Wedi board at the back of the niche.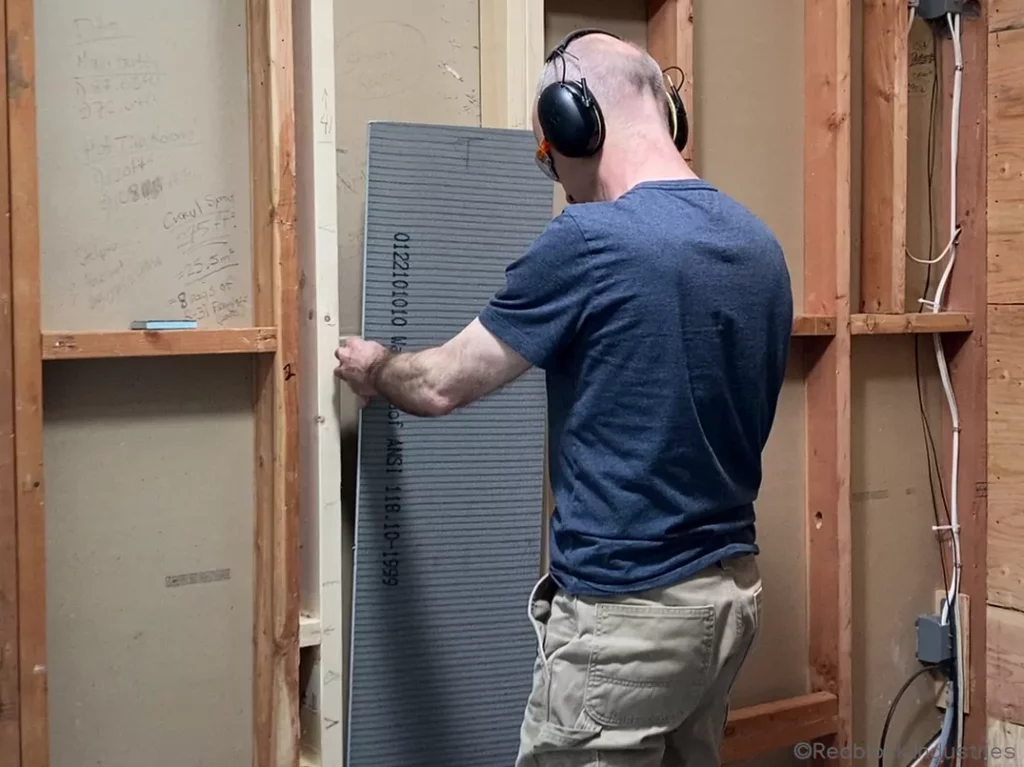 I cut this panel so that it fits quite tightly into place with a very small bead of Wedi joint sealant on each side so it seals against the framing but not the drywall at the back of the niche.
The backer board pieces for the sides of the niche were cut flush with the surface of the surrounding shower wall framing and a bead of Wedi joint sealant applied to seal them against the back panel.
And they are attached to the framing with Wedi Screws and Washers.
Task 2:
Cut and install backer board pieces at the sides of the niche.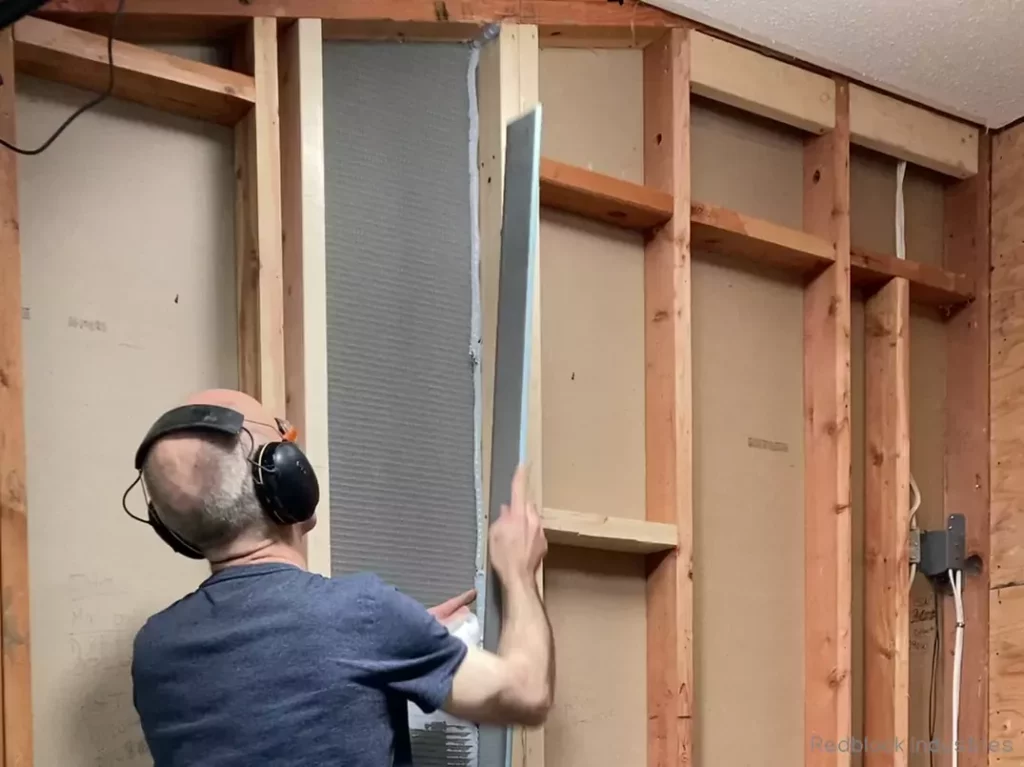 The last Wedi Board pieces to install were on the face of the shower wall on the left and right side of the niche. These side pieces overlapped the niche side pieces to allow the seam to face the inside of the niche. Wedi joint sealant was applied to create a watertight seal.
Task 3:
Install Wedi Board pieces on the face of the shower wall, left and right of the niche.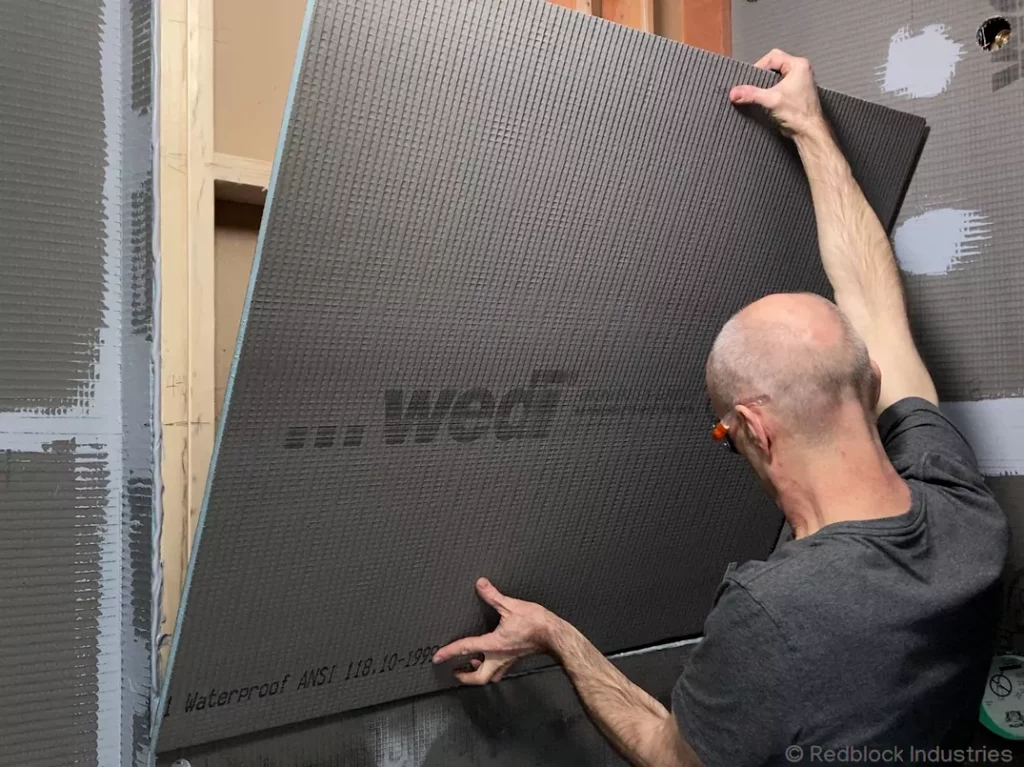 Task 4:
Install a small piece of Wedi board to fill the base perimeter's notch channel ( Z notch) in front of niche. This thin strip of Wedi Board actually comes with the Wedi Fundo Ligno shower pan, which makes it easy if you're also installing this shower pan (video post coming soon).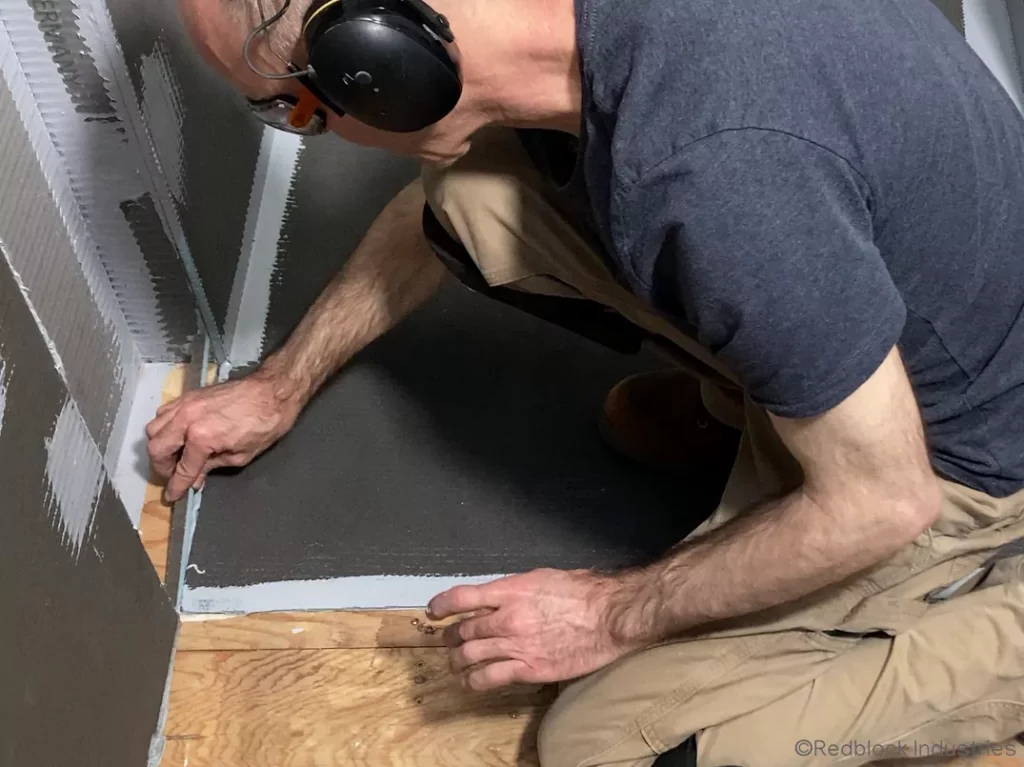 Step 4: How to Build a Shower Niche – Waterproofing
I won't be explaining much about the importance of shower waterproofing in this step so if you need to know more about it before continuing to read, you're welcome to check out my Shower Membrane Waterproofing post.
At this stage of our build, the base of the shower niche is still the plywood subfloor, recessed about 1/4″ below the adjacent shower pan grade. As such, it needed to be raised up to the subfloor grade before waterproofing.
I originally thought I would install a small piece of Ditra Heat Matt to accomplish this (as I did on the floor outside the shower), but I decided to just fill it with thinset mortar instead, because it would be a bit easier to create the slope on the bottom of the niche.
Task 1:
Spread 1/4″ of thinset mortar over the subfloor at the base of the shower niche. Ensure that it's sloped outward to promote proper draining. 1/16 inch slope from back to front is all you need.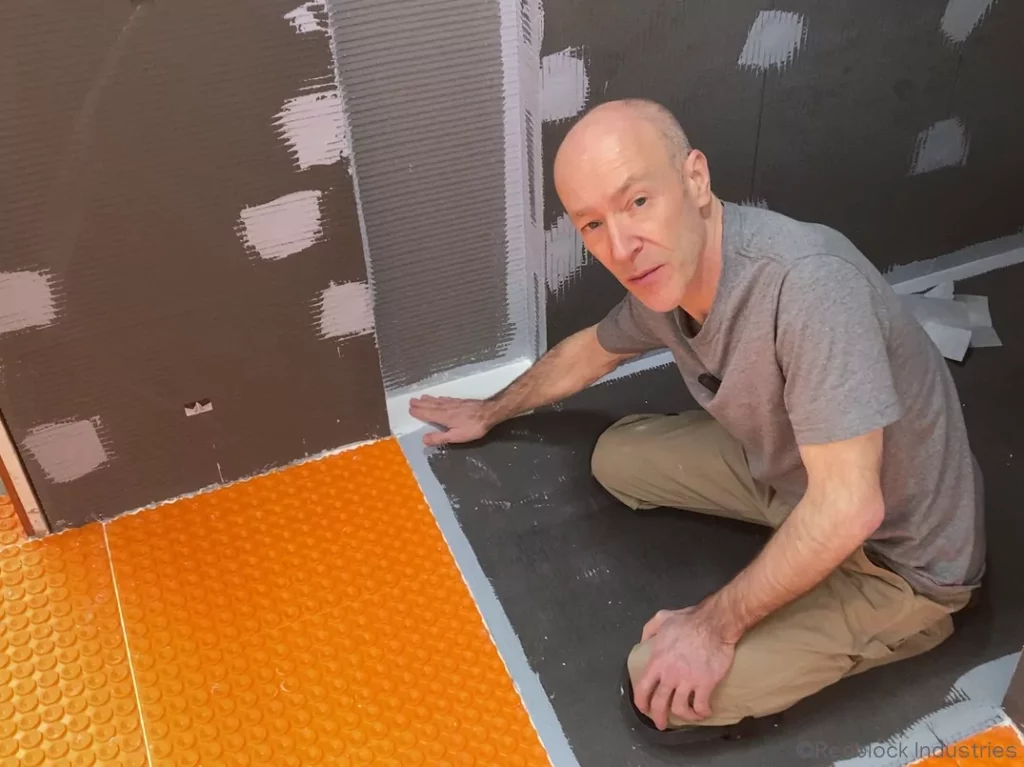 Because this niche is "curbless", the base of the niche, and all the corners, need to be waterproofed. This is a bit of a fiddly job using a sheet membrane but I prefer this for piece of mind. Check out my waterproofing post to find out why.
In order to prevent excessive overlapping of many individual pieces of sheet membrane at the base of the niche, I decided on one carefully cut piece of Wedi Subliner Dry in combination with two Subliner Dry Inside Corners and two Subliner Dry Outside Corners.
Task 2:
Install Wedi Subliner Dry over shower pan seams and base of the shower niche.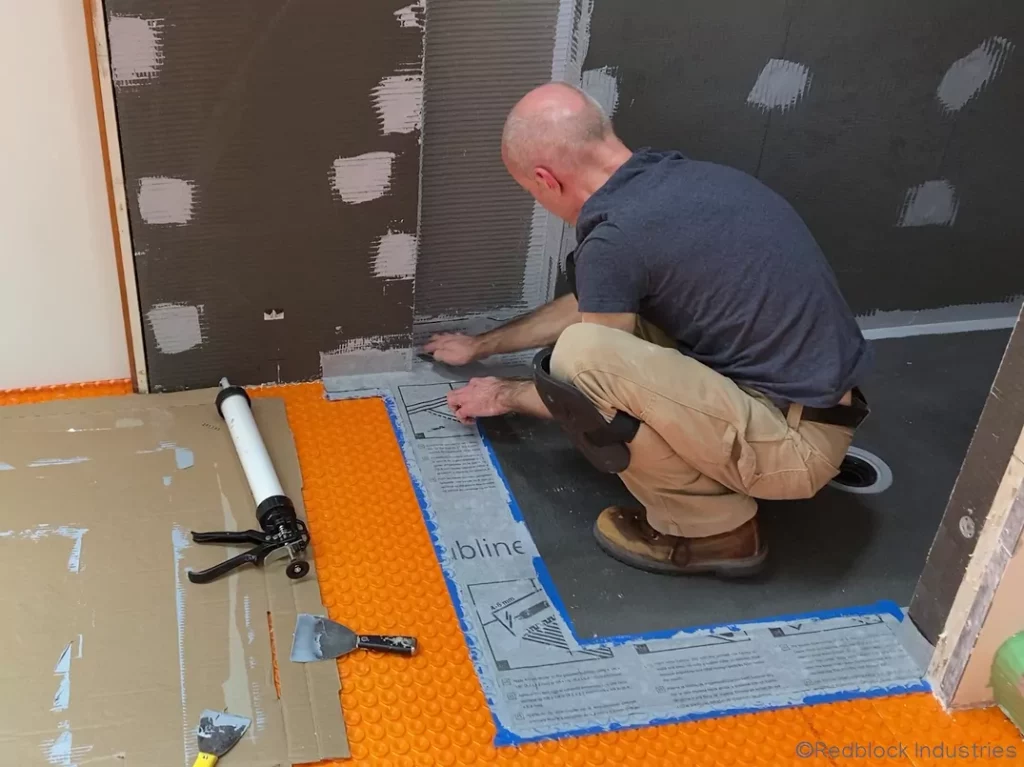 Task 3:
Seal the joint where the niche panels meet the floor by applying two sets of Wedi Subliner Dry Inside and Outside Corners to this area.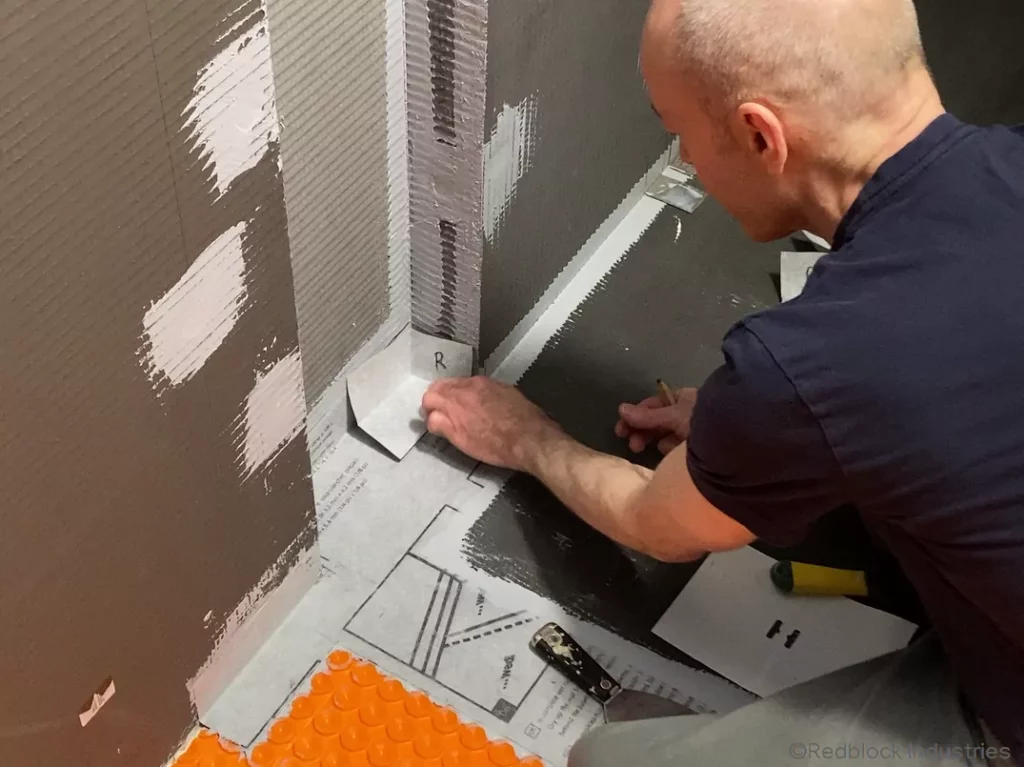 Step 5: How to Build a Shower Niche -Tile & Shelf Installation
If you're interested in finding out more about shower tiling before you continue reading, you're welcome to check out my Shower Tile Installation post.
Because this is a tiled shower niche, and the particular tiles chosen by my client are composite marble, I decided to expose the edges of the tiles on the sides of the niche. This involves a little more work but it looks so awesome that I needed to do it for this build.
If you're installing ceramic or porcelain tiles, you will not have this option. Instead you'll need to install a tile edge trim to frame the perimeter of your niche. You can see an example in this image.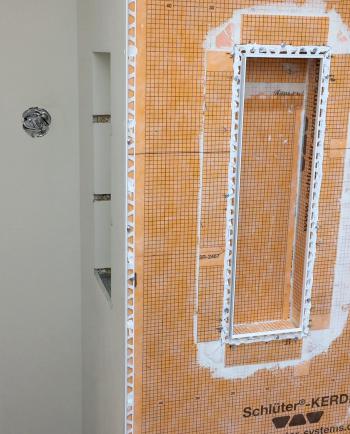 Exposing the tile edges also means polishing them, which I do not have the time to cover in this post. However, I will cover the entire tile edge polishing procedure in my Tile Edge Trim post if you are interested.
Before tiling the inside of the niche, I first tiled the shower wall on the right side of the niche.
Task 1:
Cut and set the shower wall tiles on the right side of the shower niche.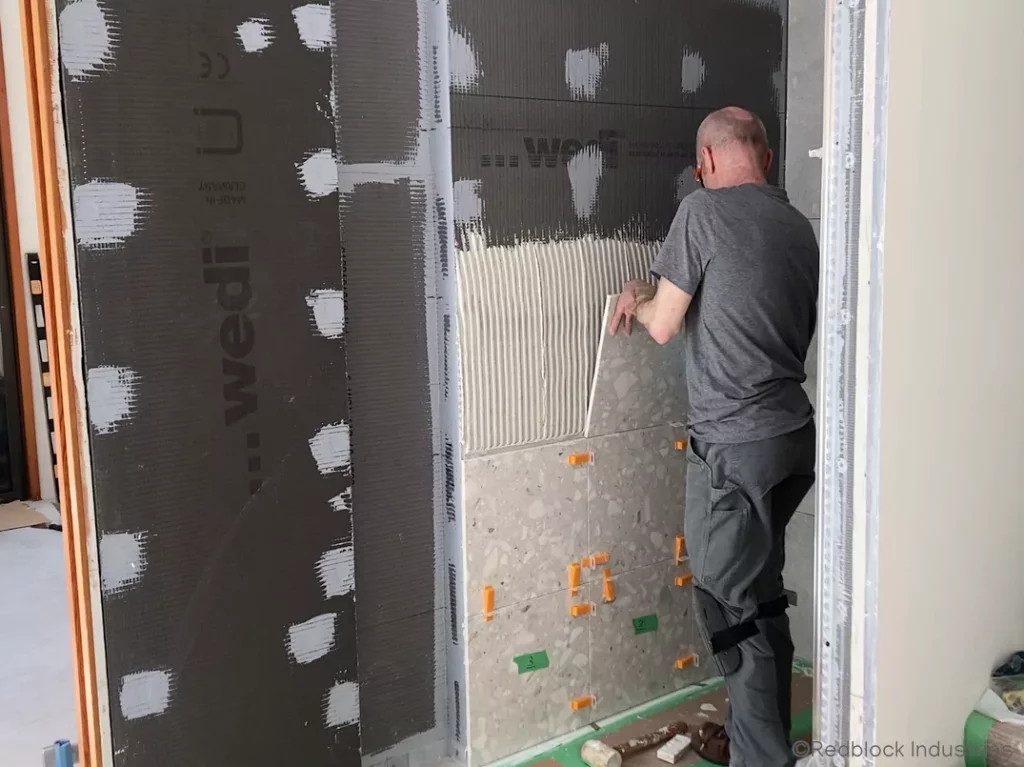 After completing the tile installation on the right side wall, I could have immediately installed the left side wall too, but I wanted to tile the niche back wall first, just to see how it looked!
Task 2:
Cut and install the tiles at the back of the niche.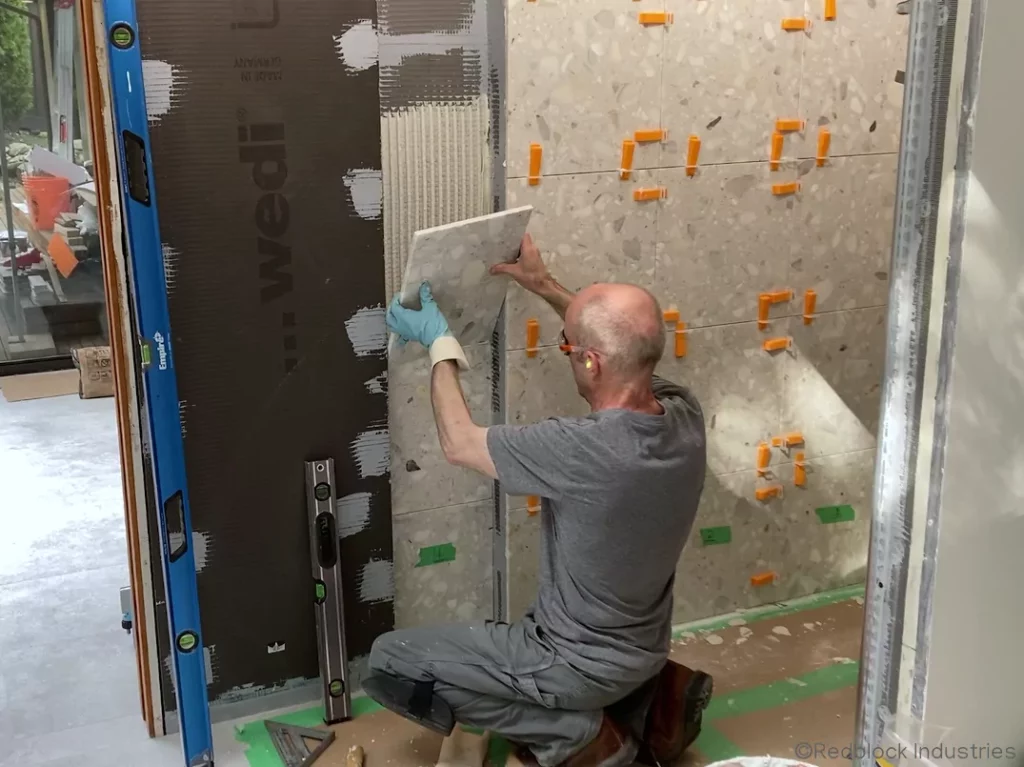 Setting the shower wall tiles on both sides of the niche before setting the niche side wall tiles is very important because it ensures that the sides of your niche will look perfectly plumb and straight.
Task 3:
Cut and set the shower wall tiles on the left side of the shower niche.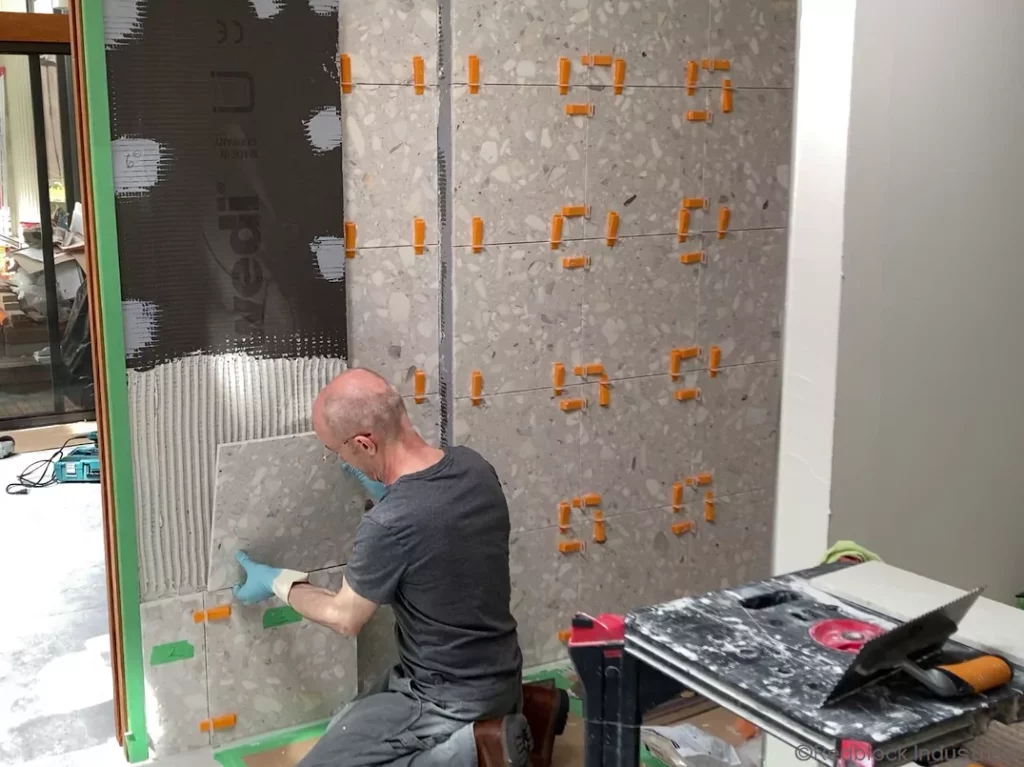 Once the shower wall tiles on each side of the niche were set in place, then it was time to cut and set the side wall tiles inside the niche.
And because the shower niche shelves I'll be installing rest on the top of the side wall tiles (within the grout line), this install step is also included the shelf installation.
Task 4:
Cut the side wall tiles for the shower niche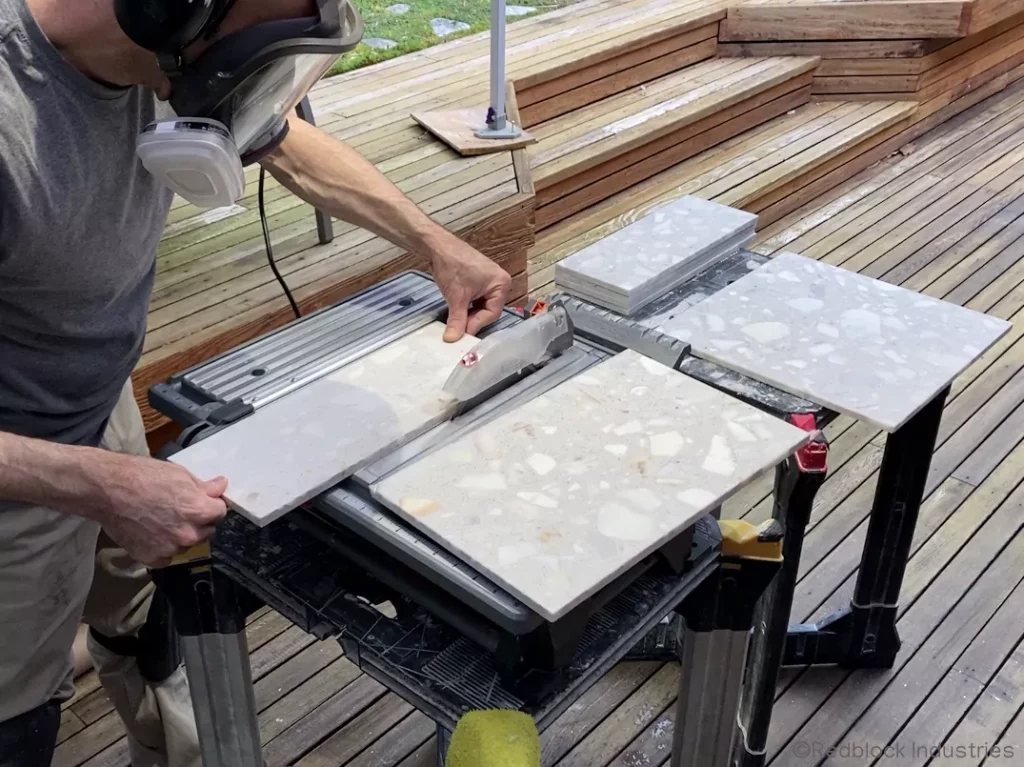 Task 5:
Install the side wall tiles and the shower niche shelves in the niche.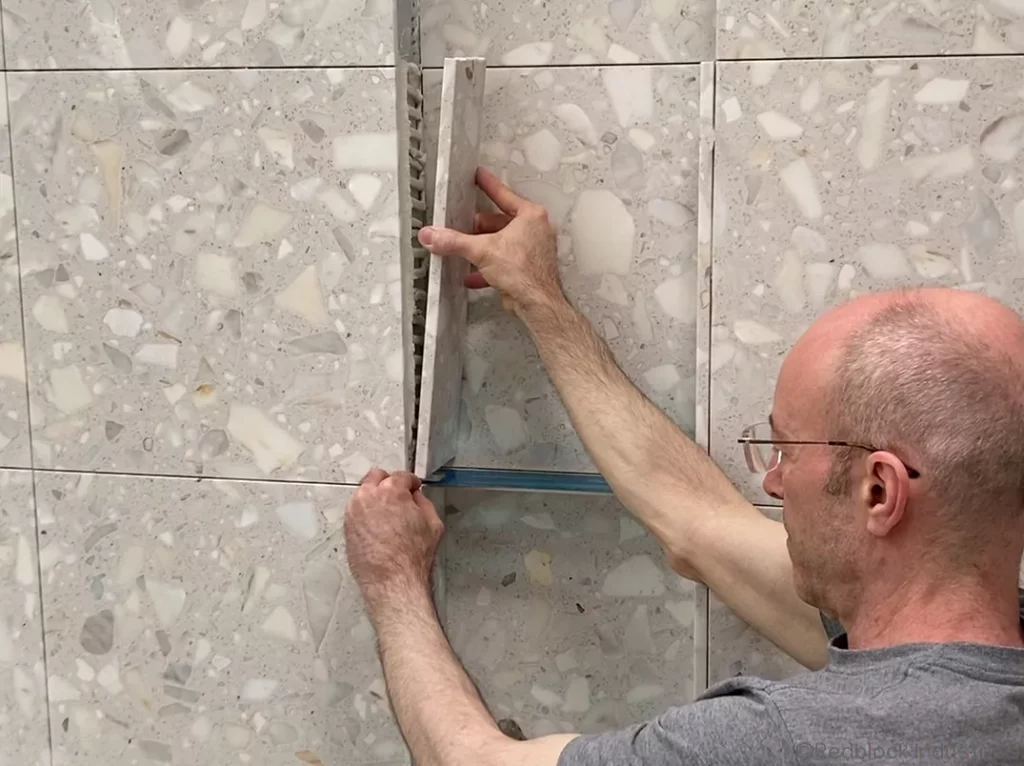 My client decided to install the Rb3 Stainless Steel Shower Niche Shelves because she wanted plenty of shower storage in her niche but didn't want the thick and clunky look of a tiled shelf or the slippery surface of glass. These stainless steel shelves have a very low profile and fit into a standard 1/8″ grout line space, providing the minimalist aesthetic she appreciates.
Since these shelves are 1/8″ thick (slightly less), and my grout lines were around 1/16″, I needed to file the edges of these tiles a bit to make room for the shelves. I will soon be adding a section to my Shower Tile Installation post that covers this in detail so stay tuned!
Btw, if you wanted to install a different kind of shelf (like glass for example) you could certainly do that instead, but you'd need to cut the side wall tiles a bit shorter to make room for the glass because they are a fair bit thicker than the stainless steel shelves I'm installing.
You can check out my Shower Shelf Options post if you'd like to see a large assortment of different shower shelves to improve your shower storage.
Step 6: How to Build a Shower Niche – Grouting
As I've mentioned before, I believe that grouting with a pre-sealed or epoxy grout is an important step for most showers and tiled shower niches.
As such, I decided to grout this shower niche and the rest of the shower walls with my favorite pre-sealed grout, Mapei Flexcolor CQ.
I love this product because it stays water resistant for a super long time after install and it sets rock hard (unlike some other pre-sealed grouts). The only hitch with this product (and most pre-sealed grouts) is that the application technique is a bit more involved than with regular cementitious grouts.
If you decide to use a pre-sealed grout, I would strongly suggest that you practice with it on a small area before you take on a big grouting job.
If you feel some apprehension about learning a new grouting technique, you can always apply regular cementitious grout instead. But then you'll need to seal it every year or two.
Task 1:
Grout the shower niche interior.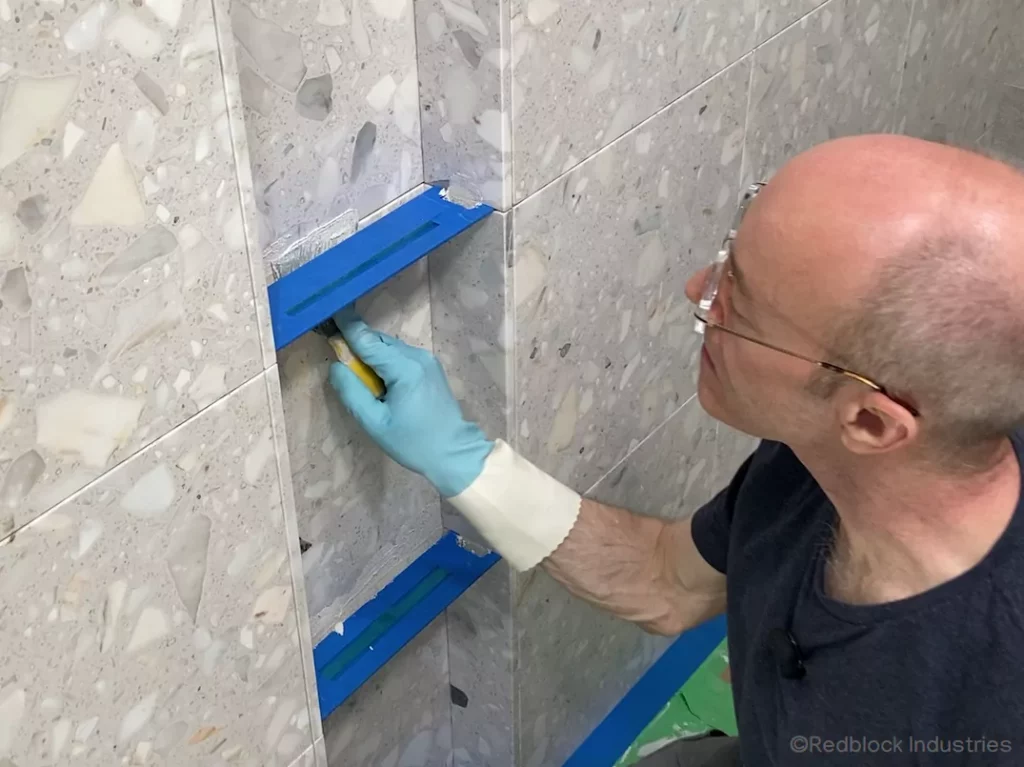 Check out my Shower Tile Installation post for more info on Flexcolor CQ and it's application
Step 7: How to Build a Shower Niche – Tile & Grout Sealing
As I mentioned above, you never need to worry about sealing your grout again if you install a good pre-sealed grout on your shower wall tile and in your shower niche.
As such, I didn't do any grout sealing at this stage, but I did decide to seal the tile surface with a good grout, tile and stone sealer because these tiles are composed largely of marble which is quite soft and relatively porous.
You can find out more about grout sealing and in my Shower Tile Installation post.
Task 1:
Seal the Shower niche tile with a good tile sealer.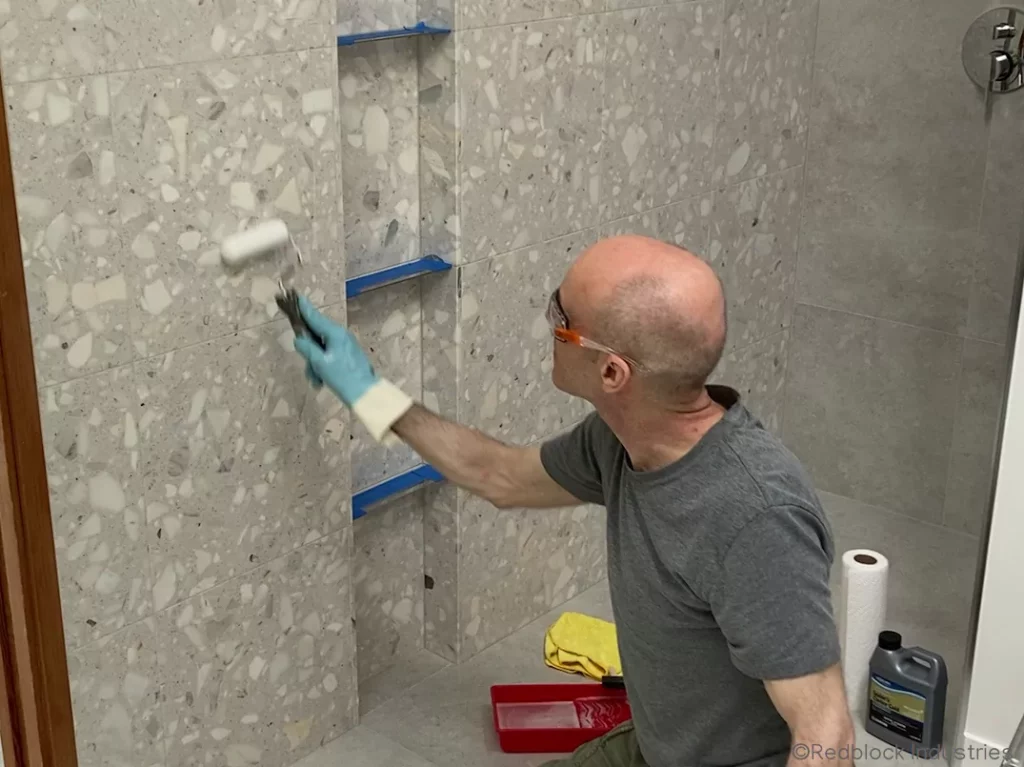 Task 2:
Apply a tiny bead of silicon around the shelves and the niche perimeter.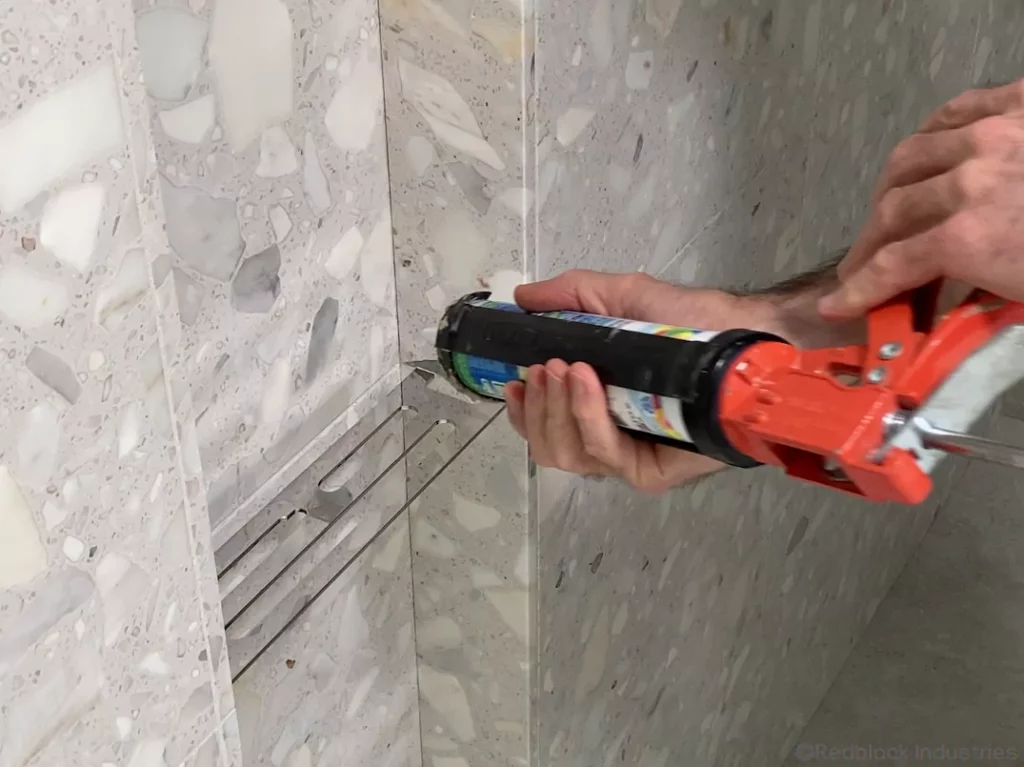 Materials Used in Project
1/2 inch Wedi Board
Wedi Subliner Dry Inside

and

Outside Corners
Mapei Ultraflex LFT Thinset Mortar (white, modified)
Mapei Flexcolor CQ (premixed and pre-sealed)
QEP Floor and Wall Tile Levelling System
Wrap Up
I hope you enjoyed my post on how to make a shower niche.
I really enjoyed building this niche because it showed that a simple shower niche can be transformed into an impressive architectural feature if you're willing to take it to the next level 🙂 .
This post will be part of a series of posts (and videos) covering an entire Wedi shower build, but only the niche installation is included in this post. Stay tuned for my next posts (and video) covering the rest of this Wedi shower build project.
Please let me know in the comments below if you decided to take on this project, and how it all turned out.
Feel free to ask me a question as well. I'd be happy to help you out!