2016
A New Business Idea
Redblock Industries is a tiny partnership comprised of two brothers, Dave and Steve Gehrmann.
The inspiration for our new business came to us while working together on a shower remodel project (not this project, actually… but you get the idea).
We were constantly discussing new and different ways to solve the fundamental problems inherent in constructing functional, beautiful and safe shower assemblies. Our first product design was born from these discussions.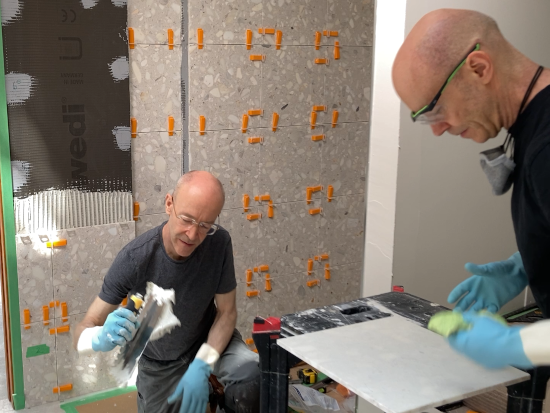 2016 – Continued
Two Clueless Entrepreneurs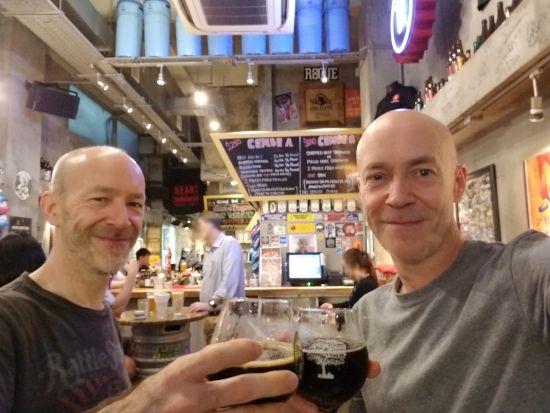 I (Steve) have owned and operated a bathroom remodelling company for many years (SKG Renovations) but neither Dave nor I had any experience with manufacturing shower fixtures or running an ecommerce store. We were a little out of our element, needless to say.
Our biggest priority was always to create products of uncompromising quality; something that seemed to be a lower priority for our competitors. But we soon realized that the cost of production, along with all our other business expenses threatened to derail our plans before we even got started. It was a sobering realization, but we pushed forward.
Accelerating ahead a few years… we managed to take control of most of our businesses, which helped us keep costs down. We also managed to gather a team of elite fabricators and professionals that allowed us to maintain our super high product standards while still controlling our costs.
2017
An Innovative New Product
From our countless conversations about building systems (and their problems), we identified a potential need in the bathroom remodeling market. We thought that people may be interested in an alternative to a tiled shower niche, and stainless steel seemed like the obvious choice. Stainless steel was already widely used in the home for areas with constant exposure to water.
There were a few obscure stainless steel shower niches available in the market, but none of them could be integrated with the shower waterproofing membrane. So we decide to design one that had waterproofing built-in. We also incorporated a built-in tile border trim, since trimming out a shower niche is always a difficult and time-consuming task.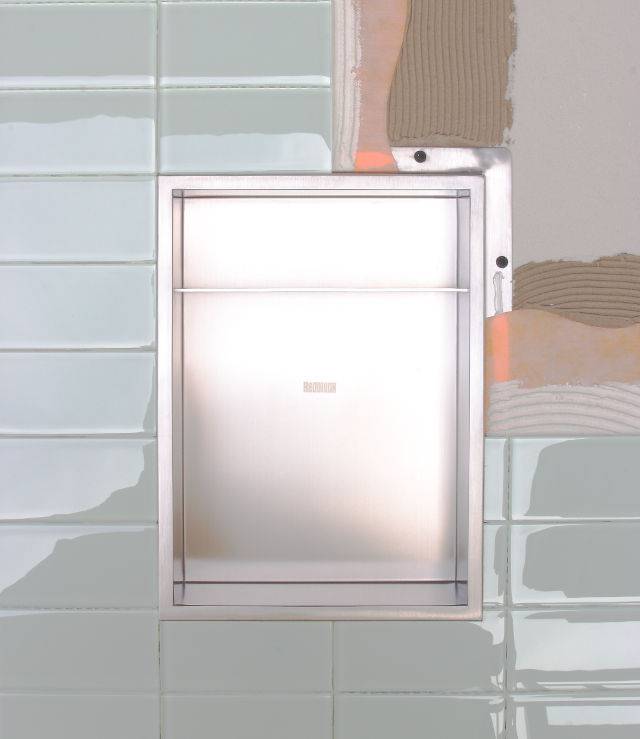 2017- Continued
Building Great Relationships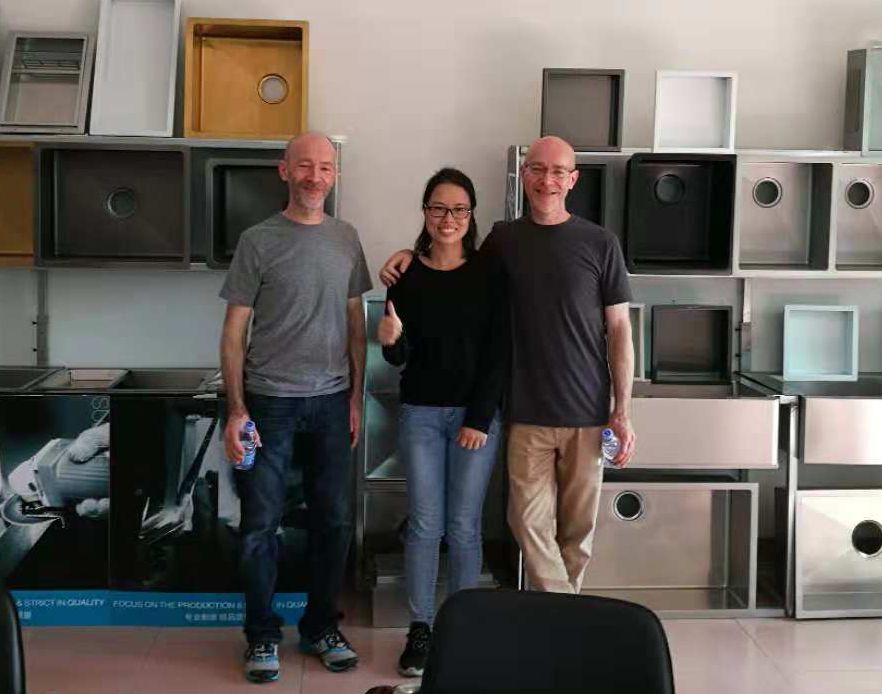 One of the best parts about creating our product and business was the awesome relationships that we've made along the way.
This journey has brought us together with some very high quality people on each side of the globe. From our accountants and attorney in Washington state, to our fabrication team in Asia.
They all have provided us with the help and resources that we desperately needed to produce a product that we can be proud of. The most important of these relationships was with our fabrication team.
Despite our initial ignorance about steel fabrication, they guided us through the process and created our niche with precision and pride. Our dealings with them were probably the most rewarding part of our journey so far. (That's why Dave is so friendly with our fabrication rep, Sue).
2018
Blogging?
Up to this point we had been focussed on building the perfect stainless steel shower niche, sorting out the basics of our ecommerce website, and attending to the thousands of tiny details of our new small business. We hadn't really had a chance to think about how we might market our awesome new product.
We'd heard the term "content marketing" mentioned a lot but we really didn't know what it meant.
When we eventually realized that it basically meant "blogging", we thought… no thanks. It was basically the last thing that David and I wanted to do. We were never really that online savvy, and we mostly preferred keeping to ourselves.
But since we were committed to making our business great and we were told by so many knowledgeable people that a blog was essential for any successful business, we decided to give it a shot.
As it turns out, our shower remodel blog has become quite popular, and I'm a bit embarrassed to admit that answering remodel questions from our blog readers has become very enjoyable and fulfilling for me.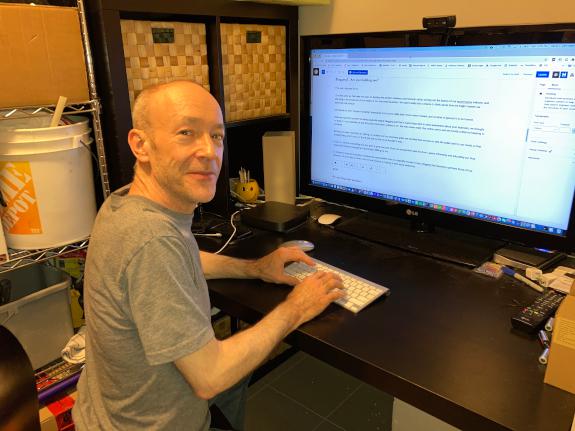 2019
An exciting new product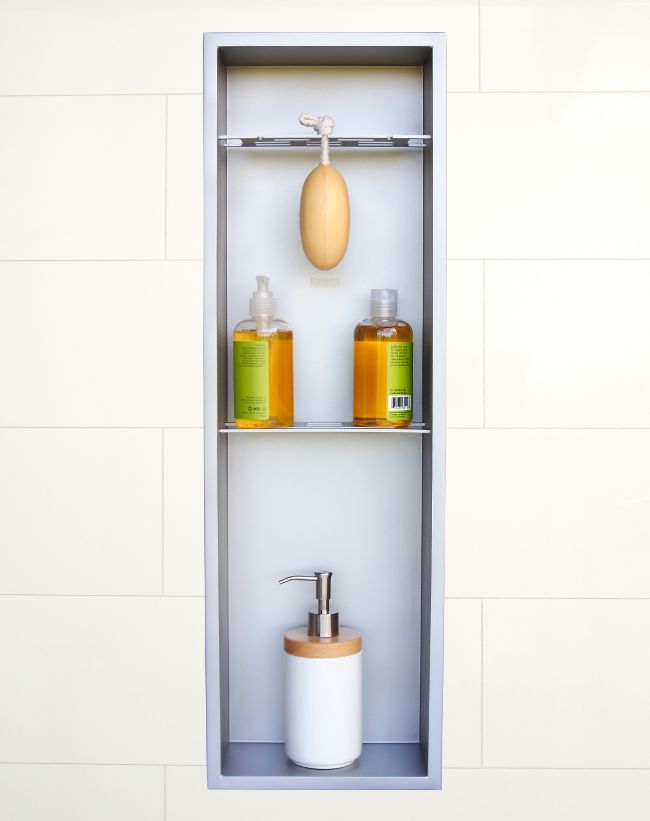 In 2019 we produced our second shower niche, the N828. It was created for those that wanted a little more storage, with two slotted shelves and a larger area below for taller bottles.
2020
Tough start, but ends well
A stressful year, needless to say. It was all about taking care of our old parents and helping them through the pandemic. We basically put everything on hold with Redblock as a result. Unfortunately we ran out of all our shower niche inventory, which meant we lost out on a lot of sales… and apologizing to our potential customers became routine.
But by the end of 2020, we had most of our personal & family responsibilities sorted, so we decided to fully commit to expanding our product line and our business.
This was the start of a new era for Redblock, where brand building and marketing started to become as big a priority as our products always were.
As a result, we designed a new product to be introduced in 2021. Our rb3 slotted shower niche shelf designed to be installed into any 12″ wide custom or prefabricated tile shower niche.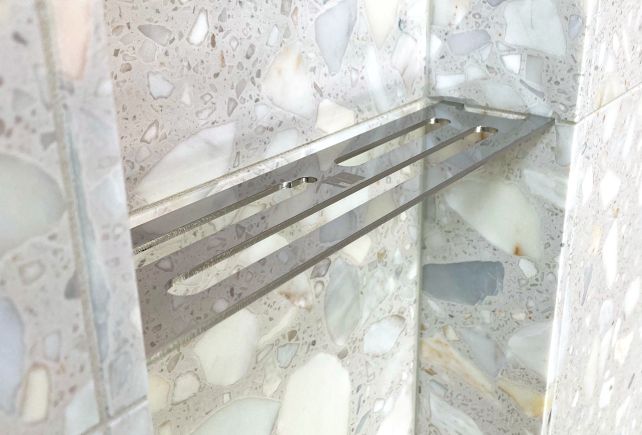 2021
Design Improvements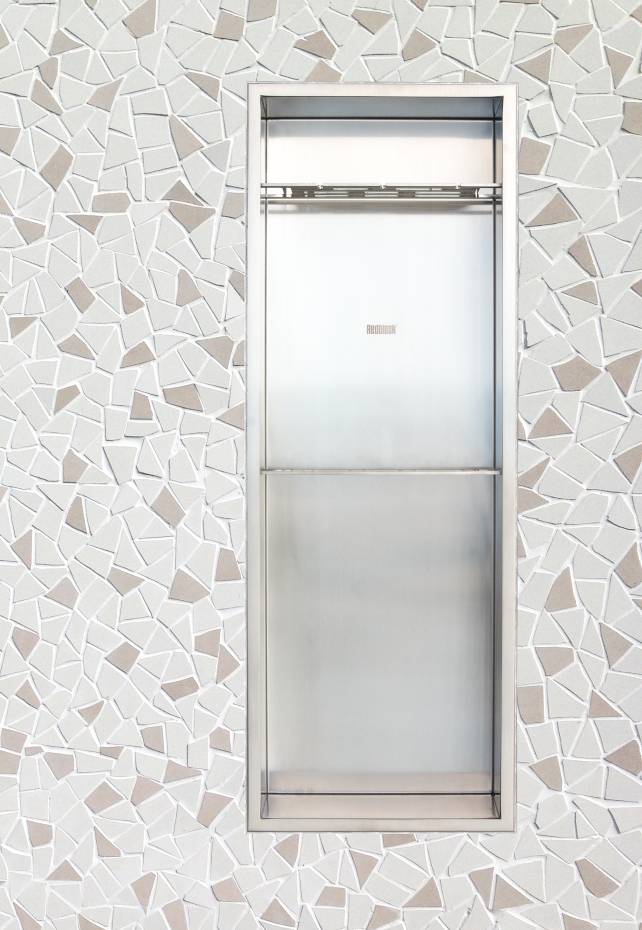 With renewed motivation and a great new plan for Redblock in 2021, we designed our new N1028 Stainless Steel shower niche to replace our previous model, the N828. This redesign included our unique slotted shelf which we made a bit narrower and more functional.
During the latter part of 2021 we also decided to begin manufacturing both our niches using 316 stainless steel instead of 304.
316 stainless steel is much more corrosion resistant than 304, so it provides much better protection from the damaging effects of chlorine bleach.
The use of bleach has increased dramatically during the pandemic so we thought it prudent to make this change, even though it increased our production costs considerably.
The change to 316 SS has also been particularly appropriate for our hotel customers because of their increased use of chloride cleaners and disinfection chemicals.
Another Exciting New Product
Since the beginning, our focus has been stainless steel shower storage products, so we decided the next addition to the Redblock product line should be a corner shower shelf.
So with the same focus on innovation, functionality and beauty, we created the rb3 Corner Shower Shelf.
Along with our collection of shower niches, we also decided to fabricate these shelves using 316 stainless steel instead of 304, to offer unprecedented protection against corrosion.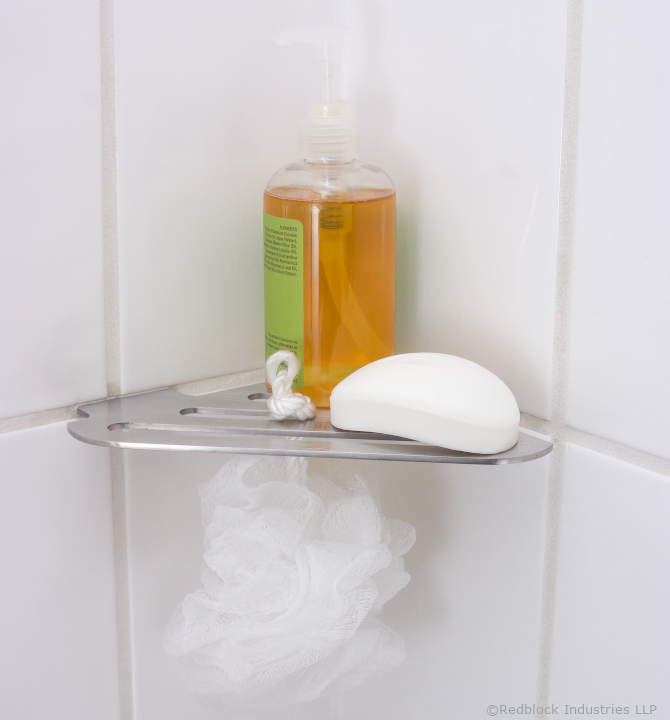 The Future
We are very excited about our products because of their beauty & awesome features, and because we believe that they fill a void in the existing tiled shower niche market.
But whether our not our business expansion plans work out in the coming months and years, we will always be committed to our goal of creating super high quality products that can satisfy and serve our customers for a lifetime.
We have big plans to produce more innovative stainless steel shower fixture products that continue to surprise and excite our customers, so stay tuned!