Modern Shower Design has changed quite dramatically in the last decade or so. The rapidly evolving design trends and changes in consumer preferences have been the driving force behind these changes.
This has resulted in some significant changes to the look and feel of the shower, the materials used, and the strategies used to install them.
These aesthetic and structural design elements have changed the way we build our showers, how we clean ourselves, and how we feel about the shower experience.
This article will go over some of the most important of these modern shower design changes and how they have transformed the modern shower.
Topics Covered:
CURBLESS (BARRIER-FREE) SHOWER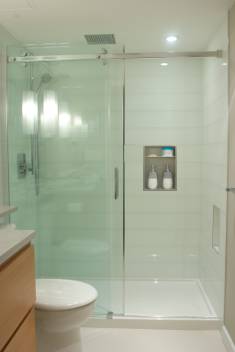 It wasn't too long ago when real estate professionals would warn you against replacing your only bathtub with a walk-in shower – that your property value would be negatively affected if you didn't have at least one bathtub in the home.
In the average North American city, this was probably true (more or less) about 10 years ago, but preferences have continued to change. The requirement for a bathtub in the home is probably still a preference for many, but expectations have changed to reflect the reality of high property values and the resulting smaller living spaces.
In addition, there also seems to be a cultural shift in preference for showering over bathing. Many believe that a walk-in shower creates a more luxurious and hip bathroom environment than a standard alcove bath/ shower does. The exception to this would be the growing trend of stand-alone tubs in the large master baths of higher end residences.
In general, the shower experience is now perceived as a more efficient way to clean yourself than a bathtub, especially with most millennials. In todays fast paced world, a "relaxing bath" does not have the same priority it once had and the bathtub, an unnecessary luxury.
TILED SHOWER BASES
In modern shower design, the need for comfort and luxury seems to have shifted in recent years from a focus on the bathtub, to a focus on the shower. The current trend is to emulate a spa-like experience in the shower, and a great way to accomplish this is with a tiled shower pan.
Without the huge expense of investing in high-end fixtures, one can still create a trendy modern shower design with the creative use of tiles on the walls and base of your shower.
Since the introduction of reliable waterproofing shower membrane technologies, there has been an increase in the preference for tiled shower floors, with the goal of creating a seamless modern look that surrounds you in the shower.
Even with the significant cost and complexity of a tiled shower installation, homeowners are tackling this project with increased frequency. This is mainly due to the increased interest in creating a luxurious shower environment, and increased availability of some very nice lower cost tile options.
WATERPROOFING MEMBRANE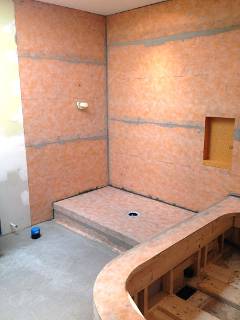 With the increase is walk-in shower installations, there is also a significant increase in fully tiled shower surrounds in todays modern shower designs. Tiling the shower floor and walls can create a beautiful, seamless tile surround for a modern, spa-like shower experience.
While dramatically improving the look and feel of your modern shower design, it also creates some challenges that were not adequately addressed in the past.
The way that the shower base and lower section of your shower were waterproofed in the past was clumsy and problematic. Shower bases constructed using these older techniques were basically engineered to fail, and eventually all of them did.
That meant eventual water penetration, mold, rot……. and tearing it all out to rebuild. Recent developments in waterproofing shower membrane technology have eliminated the problems associated with the poor engineering of these assemblies, and lowered the chances for human error as well.
The advancement of modern shower design has been unimpeded largely because of this revolutionary technology.
See more about this on my Shower Remodel Problems post
SHOWER NICHE
Popular interest in the installation of a shower niche into the shower wall has been one of the biggest changes in modern shower design. A shower niche is simply a recess in your shower wall that is used to store all of your personal cleansing products and tools.
See this article: What is a shower niche?
A shower niche can be custom made into almost any size you like, it can be tiled, or it can be pre-finished and ready to install (like the stainless steel shower niche shown).
Although there are many options, the main reason for their popularity is because they offer a solution to one of the biggest problems in most showers, lack of organization.
With a place to put your soaps, razors, shampoo bottles wash cloths or puffs, your sleek modern shower design can be maintained with a stylish tiled or finished shower niche.
Another fundamental reason for the increase in their popularity is because of the improvements in shower waterproofing membrane technology (as mentioned above). Historically, a responsible installer would never cut a recess into your shower wall because of the risk of water penetration into the wall cavity.
Water penetration and mold growth are risks that still exist, but now they can be largely eliminated by the installation of a waterproofing membrane, or by installing a preformed tilable foam shower niche, or even easier, one of the finished stainless steel shower niches.
With a shower niche (or two), you can enhance your modern shower design, store your products more efficiently and make your shower cleaner and better organized as a result.
More on this topic: Shower Niche Planning
HAND SHOWER
The hand shower or "shower bar" has been increasing in popularity in modern shower design in recent years; so much that many people many feel that they could not do without this feature.
There are variations of this type of product but most have a vertical bar that's mounted on the valve side of the shower wall where the "hand shower" wand can be attached at any point.
This modern shower design upgrade is so common because it increases the flexibility of the shower immensely. The obvious benefit is a more thorough rinse, but it has many other uses.
By adjusting the hand shower wand, a person of any height can shower comfortably. Some have praised the hand shower as the perfect dog washing apparatus, while others love the fact that they can rinse off the tiles and shower door after showering and after cleaning.
It can also be argued that a concentrated spray wand in your hand allows you to rinse yourself off a lot faster, saving precious water and the environment.
CURBLESS SHOWER
The curbless or barrier free shower has been a growing trend in modern shower design in recent years. This trend began with the need for a roll-in shower for individuals that rely on a wheel chair for mobility. Since then, the interest in a minimalist bathroom design has grown quickly, and interest in the curbless shower has grown along with it.
The concept of a "wet room" was also embraced in many European countries due to generally smaller bathrooms compared with North America. In these bathrooms, the shower space is often shared with the rest of the bathroom area, making a shower curb a tripping hazard and completely unnecessary.
In contrast, the curbless shower has become a luxury feature in the larger bathrooms of North America; a more expensive option that represents the "high-end" bathroom.
The most popular style of curbless showers are tiled and utilize the same or similar tile within the shower, as that of the main bathroom floor area. A contrasting tile size or design is also gaining in popularity within the shower, for those that prefer a more bold design statement.
Another way to achieve this contrasting look, is to install a finished pre-formed curbless shower base. These are becoming popular because of easier installation and a bold design statement, yet they still maintain the curbless continuity.
FIXTURE FINISHES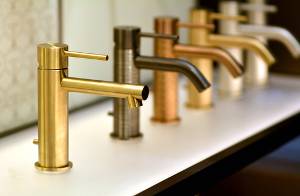 Since the 1970's when brass and gold were the popular high-end fixture finishes, the old standby, chrome was the dominant finish in most modern bathroom and modern shower design.
Chrome fixture finishes are still the dominant finish in most modern bathrooms, with brushed nickel and brushed stainless finishes coming in second and third in popularity in the last few years.
Matte chrome, matte nickel, and matte black are becoming hugely popular in recent years. These newer finishes are being embraced because of they allow a little more variety with the popular silver metallic finishes in your bathroom.
And if you want to be a bit more bold, the black fixture finishes are probably the next most popular new finish in the bathroom and shower. This is likely due to to their compatibility with metallic finishes and the super popular grey and white contrasting bathroom design schemes.
And for those interested in even more diverse and different finishes, there are a few interesting finishes appearing (and re-appearing) in modern bathroom and shower design. Finishes like rose gold, matte white, as well as the classic finishes, copper and brass.
Finishes like brass and oil rubbed bronze have always been available for bathrooms with a more classic design scheme, but are not big sellers because of the relatively small number of homeowners choosing this design.
An emerging trend in fixture finishes is to use different finishes for the different fixtures in the bathroom. A beautiful example would be a matte black shower valve trim, contrasting a finished stainless steel shower niche.
Wrap Up
The changes in modern shower design have made the showering experience a much more efficient, as well as a more comfortable and luxurious experience. Changes in preferences and style, have also forced designers and engineers to figure out better materials and better ways to build todays modern showers.
If you have any thoughts you would like to share about this post or Modern Shower Design trends in general, please submit your comment below.