This Complete Shower Niche Guide thoroughly explores the question What is a Shower Niche, by providing you with all the resources you might need for your important shower niche decisions (the different types, installation issues and where to buy them).
This is Steve from SKG Renovations. This actionable shower niche info comes from my experience installing all kinds of shower niches during my bathroom and shower remodelling career.
Ok, let's get into it!
Included in this Post:
Answering the question: What is a Shower Niche?
Overview of the different Shower Niches Types
Shower Niche Design to help you pick exactly the right shower niche for you (pros & cons of each type)
Finding the perfect Shower Niche Height, Size, & Position in your shower wall
Avoiding the BIGGEST Shower Niche Install Problems
Shower Niches vs Other Shower Storage Options (shower caddies, shower shelves)
A Shower Niche Buyers Guide (Costs & Descriptions)
What is a Shower Niche?
A shower niche is a fairly common term used to describe a storage space in the wall of your shower or bath to store soap, shampoo bottles, etc. It is a permanent recessed shelf (or niche) in the tile wall that is finished and waterproof, that allows you to use the space inside the wall as extra storage.
Other less popular terms for shower niche include, built in shower shelves, recessed shower shelf, and shower shelf insert, to name a few of the less popular but also highly searched terms for shower niche. It can also be referred to more specifically as a bathtub niche if it's installed in a tub/ shower combination, and more generally as a bathroom niche.
To fully answer the question, What is a shower niche?, we must also define the two main types: tiled shower niche and finished shower niche. Each of these two niche types also have some variations.
Shower Niche Types:
There are two main types of Shower Niches: Tiled and Finished.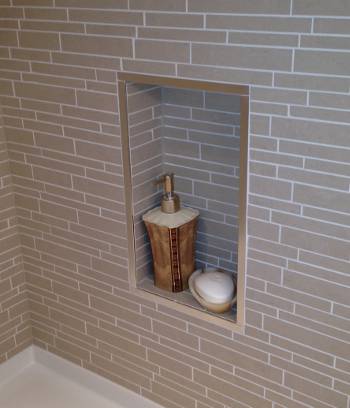 Tiled Shower Niche
Finished Shower Niche
1. Tiled shower niches come in two variations:
i) Custom tiled niches require the construction of a framed box between the wall studs. This shower niche box is then covered with tile backer board, waterproofed, then tiled. This type is the most costly, time consuming, and error prone of all the niche types but can be built to any custom size.
ii) The prefab niche, or preformed shower niche is the easiest tiling niche to install and waterproof. It can be made of plastic, foam board or stainless steel and it's surface is designed to be tiled upon (has a tile bonding surface). They are available in only a few standard sizes.
2. Finished shower niches also come in two variations:
i) The membrane bonding niche has an outer flange for bonding to waterproofing membranes and attachment to the framing. They can be made from stainless steel or porcelain. These are much easier to install than a tiled shower niche.
ii) The retrofit niche mounts into a hole in the finished tile & fastens to the tile surface with adhesive. They can be made from stainless steel, porcelain or plastic. This type is the easiest to install but DOES NOT bond with the waterproofing membrane.
Shower Niche Design
There are so many variations within the two broad categories of recessed shower niches (Tiled vs Finished) that it really helps to weigh the pros and cons of each of the shower niche designs.
Custom Built Tiled Shower Niche
The Custom Built Tiled Shower Niche can be built to almost any size, cater to any design scheme, and can be made waterproof. Vertical niches can increase storage with less cost than horizontal niche.
Cons: Risk of water leaks if built poorly. Both are more costly than other types of shower wall inserts, especially the horizontal niche.
Custom Built Tiled Horizontal Shower Niche
A custom built tiled horizontal shower niche is a bold statement of luxury with a larger storage capacity than other niche designs.
Cons: The greatest amount of time (and cost) for construction, risks of structural damage during shower wall modification, and only a single recessed shelf for toiletry storage.
Tile Ready Preformed Shower Niche Insert
The tile redi prefabricated /preformed shower niche products are easy to install and already waterproof (sealed foam board construction).
Cons: Some say they are easily damaged during handling and only available in limited sizes.
Finished Shower Niche with Membrane Bonding
This style of shower niche is completely finished so there is no need for tiling, which means easier / cheaper installation, waterproof design, easy cleaning and membrane bonding.
Cons: Some say the look is too bold (stainless steel types) or too dated (ceramic types).
Finished Shower Niche without Membrane Bonding
This type of shower niche also has a finished surface so there is no tiling or finishing required however, they are mounted into a hole in the shower wall AFTER the tiling is complete.
Cons: It does not integrate with the waterproofing membrane, increasing the risk of leaks.
Get more details on this topic from my Shower Niche Design post.
Shower Niche Height, Size and Position
Once you have figured out your preferred shower niche design, then you need to figure out how large, where and how high you want your new niche.
How large you want your shower niche is related to your preferred niche design, but you must also consider it separately to determine your practical needs.
Do you want a large shower nook with plenty of storage for a large family, or is aesthetics more of a priority for you?
Where should your niche be positioned? Do you want quick access to products while standing in the water stream, then a valve wall placement, or middle of the back wall might be appropriate.
Are you concerned about water constantly spraying in the niche and water logging all products? Then placing your shower niche a little further from the valve wall might be prudent.
And what about height? Are you vertically challenged or perhaps you have kids that will be using the shower regularly. You must pick a height that suites all your needs.
Get more details from my Shower Niche Planning Guide, my Shower Niche Height post or my Shower Niche Sizes post.
Shower Niche Install Problems
No matter which shower niche you decide to install or where you install it, there are some important guidelines that must be followed to avoid making a few very regrettable mistakes.
Shower Waterproofing
Many old-school contractors still do not routinely install shower wall waterproofing membranes.
As such, leaks at the shower wall corners and the wall to base corner are common with no membrane.
Retrofit Niche Installation
Fitting a retrofit niche into a hole in the shower wall and gluing it to the tile by a tiny silicon bead is always a bad idea.
The inevitable result is water in the stud wall leading to mold…… you get the idea.
Integration with the Waterproofing Membrane
Most finished shower niche products do not have built in flange for attaching to the waterproofing membrane.
Whether you buy finished niche or a prefab tile ready niche, you must make sure it is bonded to the membrane.
Don't Compromise the Wall Structure
Construction of a custom horizontal tiled niche involves removing a section of the wall studs that support your shower wall.
If this procedure is not done correctly by someone qualified, it can seriously compromise the structural integrity of the shower wall.
Outside Wall Installation
It is generally not recommended to mount a shower niche in an outside wall, especially in older homes.
You can probably get away with it in a milder climate if the stud wall thickness is 6″ or more but you should check with a local building professional.
Get more details from my 5 BIG Shower Niche Install Mistakes post.
Shower Niches vs Other Shower Storage
Perhaps you're contemplating which of the many shower storage options will work best for your existing shower, OR you're ready to remodel your shower and install permanent recessed storage.
Shower Caddy
A popular and cost effective temporary shower storage option is the classic shower caddy. These can take the form of racks suspended between you shower floor and ceiling or be hung from the shower head or shower door.
Caddies can be very effective for many years, but can also fall apart and some can cause damage to your shower floor or ceiling.
Shower Shelves and Racks
Other more permanent but slightly more obtrusive shower storage are the wall mounted soap shelves and shower racks.
These come in a infinite array of styles and sizes in stainless steel, coated steel, wood and plastic varieties.
Floor Racks & Baskets
And slightly more obtrusive again are the floor racks and baskets. These storage options can be more useful because of their larger size and multiple shelves.
The downside is that they tend to take up valuable floor space and tend to get kicked and tripped over.
Shower Niches
The only permanent shower storage option is the shower niche, which requires a full remodel of your shower.
A shower niche is fully recessed into the shower wall so it, and all your shower items, stay out of your way during showering.
A very clear downside is the excessive cost compared to the other shower storage options available.
See more Hanging Shower Caddy ideas here.
Shower Niche Buying Guide
What is the cost of installing a shower niche?
If you are buying a finished shower niche the costs will be more clear, but what does a tiled shower niche cost to install?
Shower niche costs are often not clear to the customer, especially if the bathroom remodel contractor is not breaking down the costs in their quote.
Even a novice can guess that the tiling of a shower wall without interruption is considerably faster and easier than tiling a wall with a shower niche in it. The niche hole involves extra framing (often), as well as meticulous waterproofing and a more complicated tile installation.
I wrote a "Buyer's Guide" post to outline the costs in more detail, to help the consumer be more informed about their choices.
It'll hopefully help you qualify your niche options based on their actual cost (material and installation).
Wrap Up
I hope you were able to get some useful advice from my What is a Shower Niche post (and the linked content) to help you during your shower remodel project.
If you'd like to write a comment about the array of Shower Niche topics I've covered in this post or what topics I may have missed, please let me know in the comments below.
I look forward to hearing from you!
* This post is for information purposes only and should NOT be interpreted as professional advice. You should always consult a licensed local contractor before undertaking any remodelling work in your home. Click here for my full Personal / Professional Disclosure. *