Considering a stainless steel shower niche?
If you appreciate the bold and beautiful look of a "finished" Stainless Steel shower niche, or you are interested in the waterproofing qualities of these products, you may still be a little confused about the various options available. Some are polished, some are not; some are compatible with your shower waterproofing membrane and some are not. If you interested in learning more about this unique shower fixture, you've come to the right place.
We are Redblock Industries; creators of our own version of the "finished" stainless steel shower niche (pictured at right). If you are interested, you can read more about our product below.
But if you are interested in another type of "finished" SS niche, a tile-ready stainless steel niche, or you are considering other shower niche options, the articles below should help you with your research.
What is a shower niche – Shower niche types explained and compared.
The Stainless steel shower niche with unique features from Redblock Industries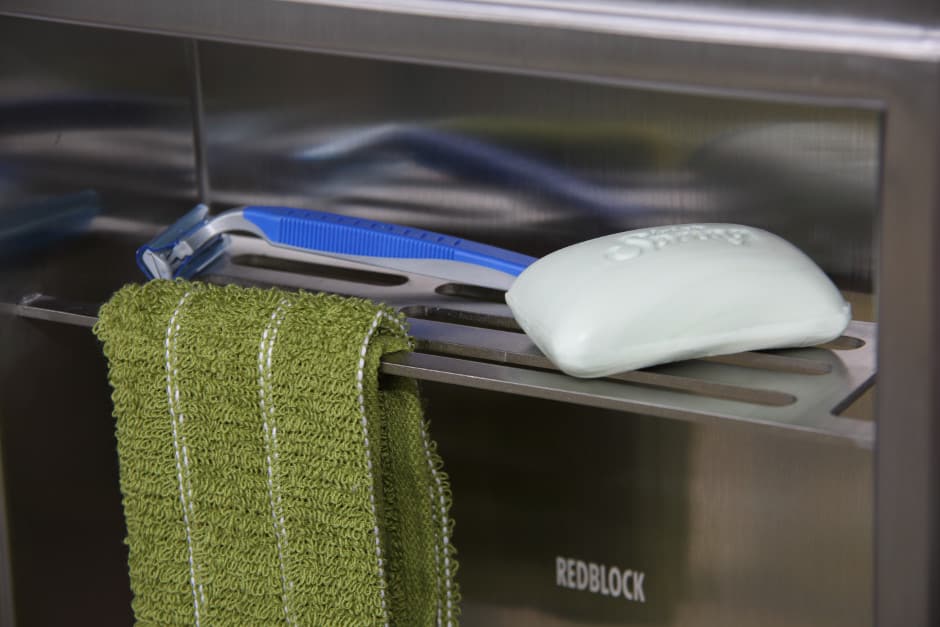 Slotted Shelf & Wash Cloth Hanger keeps your items clean & dry
One of the unique features of the Redblock stainless steel shower niche is a slotted, shelf to accommodate your soaps, razors, and tubs, & a long slot in front to hang your washcloth or puff.
A stainless steel shower niche with Ample Storage
The Redblock shower niche provides a large and efficient storage area, with two storage levels; slotted shelf storage above, and bottle storage beneath. See our Spec sheet for dimensions.
Solid, Waterproof Structure
The Redblock stainless steel shower niche is constructed from 18 guage, T304 stainless steel sheets, fully welded into a solid waterproof unibody.
M-Block™ waterproofing flange and integrated SS tile border flange
These two remarkable flanges allow the Redblock stainless steel shower niche to securely mount to your shower wall, integrate with the waterproofing membrane, and provide a beautiful brushed stainless steel border between your niche and wall tile.
Quick Installation & Cost Effective
The Redblock stainless steel shower niche is quick to install, making it cost effective compared to any tiled shower niche.
Install the 2 horizontal framing pieces between the studs.
Install the tile backer board and cut the niche hole.
Place the niche, and screw it into your framing through the mounting holes.
Done!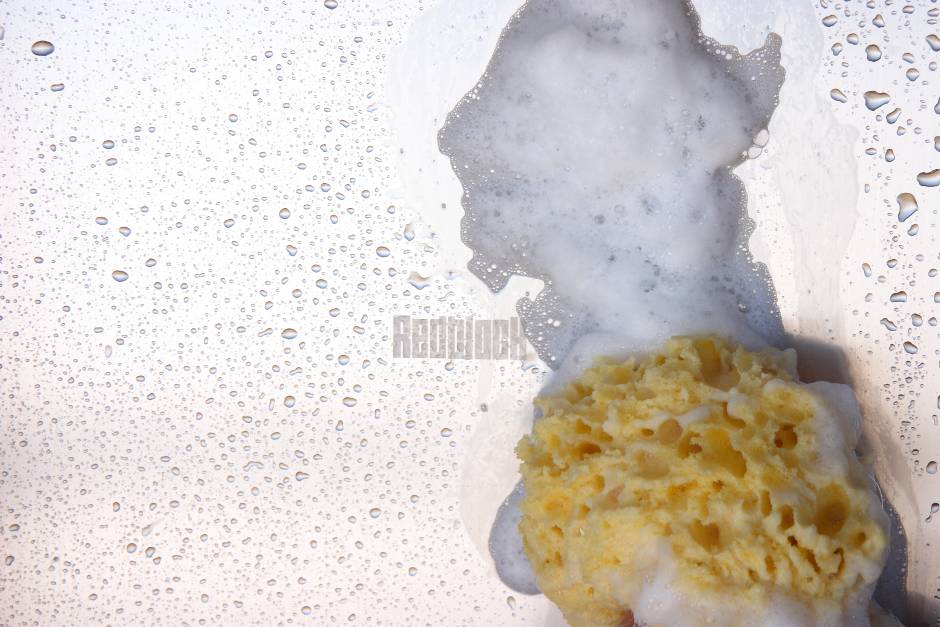 Our Stainless steel shower niche is easy to clean
Made from smooth sheet stainless steel, naturally non-corroding, and non-porous, makes it super easy to clean. (see our Cleaning Tips).
Finally, a shower niche that is easy to clean! No more mouldy grout lines and soap scum buildup!
Redblock Industries LLP offers beautiful, innovative, and efficiently designed stainless steel bath and shower products to the world.
© 2017 Redblock Industries LLP - All Rights Reserved.