5 Cutting Edge Innovations in Modern Bathroom Fixtures (2019)
Dreaming about your perfect bathroom space? Perhaps you also dream about the modern bathroom fixtures that will occupy much of that space. If you do, this article will let you wet your whistle a little, offering 6 very cool and innovative modern bathroom fixtures that you may want to add to your wish list.
LED Lighted Mirror
The LED lighted mirror is very useful and high-tech innovation in modern bathroom fixtures. Almost everyone has lived with a bathroom vanity light that doesn't properly light your face when you're trying to get things done in front of your bathroom mirror. That's why the choice of vanity mirrors and vanity lights is always important when choosing fixtures for your new bathroom space. But what if you could combine these two important fixtures? Ultra cool LED lighted vanity mirrors are a great option for satisfying your modern minimalist aesthetic and for seeing yourself in the best light. There are back-lit versions for good face lighting combined with ambient light, and even lighted mirrors that are Bluetooth® capable.
Rimless toilet
Recently there have been some innovative changes to basic modern bathroom fixtures. One of these innovations is the rimless toilet. This new innovation replaces the standard water delivery system with a jetted system located at the back of the bowl. There are two or three jets that spray the water forward to cover the entire bowl surface with water. The manufacturers claim that this method makes your toilet easier to clean because all surfaces are more easily accessible and glazed. They also say that the water jets deliver a controlled spray that prevents splashing and reduces water use. Because there is no rim, and water covers most of the bowl when flushing, it also eliminates bacteria from forming between the water outlet holes under the standard toilet rim.
Digital Shower
If  you're looking for some interesting innovation in the shower, this modern bathroom fixture is sure to delight. The digital shower gives you all the high-tech innovation you crave, but also some very practical benefits. Turn on your shower before you get in, with the touch of a wall-mount remote control. Precisely set both temperature and flow rate with ease and wait a moment until the blinking light turns to solid white before stepping in. Never get scalded in the shower again. After you set the temperature it stays there, even if someone is messing around with the water elsewhere in the house.
Toilet Seat Bidet
The toilet seat bidet is also a very innovative change in modern bathroom fixtures that deserves some attention. I realize that many people don't use a bidet, but for some it is an essential personal hygiene tool. It is for those people that the toilet seat bidet is a welcome gadget in their bathroom. Traditionally a bidet could only be used by those that have the space and wherewithal to install one in their bathroom. Now anyone can mount one of these slimline seats on their toilet in just a few minutes and enjoy a new cleaner feeling after visiting the loo.
Stainless steel Shower Niche
If you haven't heard of a shower niche, then you are seriously missing out on the most useful and attractive fixtures in your shower (see more bathroom fixture articles). Most shower niches are constructed between the framing & then tiled, which is a fair bit of work if done properly. This particular type of shower niche  (a stainless steel shower niche by Redblock Industries) is a finished product that comes ready to install right out of the box. It mounts easily and bonds to the waterproofing membrane before tiling. After tiling, you end up with an attractive finished stainless steel shower recess to store your shower & bath products in. It also has a slotted shelf to keep your soap and razor dry, and even a washcloth hanger! An innovative modern bathroom fixture to be sure.
For more information about shower niches, read this article: What is a shower niche?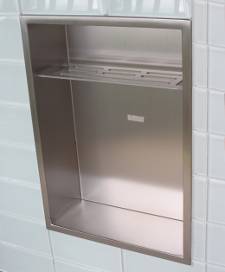 That was just a sampling of a few of the most innovative modern bathroom fixtures you can choose when remodelling your bathroom. There is a abundance of options to choose from, which can make the process a bit confusing, and more than a little daunting. I hope this article helped in your search for the perfect fixtures for your new bathroom.