Take a BOLD Risk in the Bathroom – Mix Up Your Fixture Finishes!
Details count when designing and remodelling a new space. The bathroom is no exception; once you choose the style of fixtures you like, you still need to think about the fixture finishes that will give your bathroom that sense of refinement. Since the bathroom is one of the most functional rooms in a home and a quality remodel will add value, it pays to put that extra attention into this small but impactful room. There are lots of finish choices; chrome, nickel, brass, stainless, bronze. Use this guide to help you choose the bathroom fixture finishes that work best for you and your design scheme.
Vintage Influence
Antique or vintage finishes are showing up in modern fixtures, because of a designer trend to have a more eclectic look. Gold tones are very popular as they remind us of brass finishes from the past, but are warmer, so they look good with a modern décor as well. Some vintage-inspired fixtures combine two classic materials; porcelain and oil-rubbed bronze.
A Suite of Products From One Brand
Over the years designers and remodelers often had to mix and match styles and finishes from different brands trying to establish a cohesive look. The customer may believe that one brand will offer a line of matching fixtures, from towel bars to shower heads to faucets. The reality is that many brands do not always do this across their whole product range. And your local home store or fixture suppliers may not carry the full range of matching fixtures in any case. This is where your designer or creative contractor can help you choose a suite of products that are in sync with your personal style and your design goals.
Mixing Fixture Finishes
Mixing bathroom fixture finishes is a very current designer look. One might choose all brushed steel finishes; have a faucet in stainless steel and shower fixtures in brushed bronze. Or stay with all silver finishes – brushed nickel and chrome. It depends on other design elements you choose for the room. A dark colored lighting fixture with silver accents or a black-framed shower door might look better if you contrast them with chrome or stainless accents, rather than trying to match them with the dark finish of your other fixtures. See this bathroom with mixed finishes on Houzz.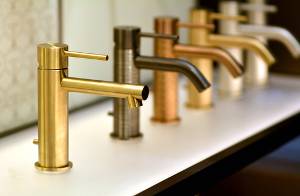 Stainless Steel Comes Out Of The Kitchen
Stainless steel fixtures in the bathroom have been available for quite some time but appear to be on the rise in recent years. Perhaps it's a result of the demand for more finish choices in general, or that buyers are considering all the neutral silver finishes to be compatible. When they decide to upgrade a faucet, they may choose stainless steel as a compatible match to their chrome fixtures. Brushed nickel has been a very popular high-end look for bathroom fixture finishes for some years, and many brands' stainless finishes match quite well with brushed nickel finishes from other brands. New fixture trends like the finished shower niche are also helping to bring the stainless steel finish into the bathroom.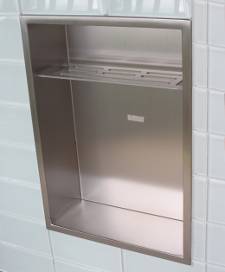 From bathtub spouts to sink faucets to shower niches, it's important to put some design thought into how these bathroom fixture finishes work together. You'll be happy that you took care of the details to create a harmonious and thoughtful design, in this all-important living space.