The Epic Battle of the Shower Niches – Tiled niche vs The Redblock Niche
In this article we will look at some of the differences between a standard tiled shower niche and the Redblock stainless steel shower niche. There are other stainless steel shower niches available, however the Redblock niche was better suited for the comparison due to it's waterproofing features.
The same… but different
A tiled niche and the Redblock stainless Steel shower niche have two very different looks, but serve the same function in your shower. They make use of the space in your shower wall to use as extra storage for items stored in the shower. They are generally considered by the potential remodeller to be on equal terms, but they are fundamentally different. Their difference lies primarily in the way they are built. We will be focusing mostly on their ability to maintain the waterproof integrity of your shower, but also highlighting a few functional differences as well.
You can read more on the different types of shower niches in our post "What is a shower niche".
Functional differences
The tiled niche is constructed on site, and the Redblock niche is pre-made with waterproofing built into it's design. Every tiled niche is different, and the contractor is trusted to be meticulous enough to waterproof it correctly. You can see by the image (with orange membrane applied) of a correctly waterproofed niche in mid construction, how complicated it can be. Correctly waterproofing a niche is time consuming work, and you need to be confident that your contractor isn't cutting any corners. On the other hand, a Redblock shower niche is a solid unibody welded stainless steel box, constructed in a similar way as a stainless steel sink. That says it all, in terms of it's ability to hold out moisture. The Redblock niche has taken further measures to ensure the waterproofing of your shower by implementing a mounting flange that integrates with the shower waterproof membrane. We call this extra measure our M-Block™ flange. See the image of the partially installed Redblock niche in the green glass tile wall.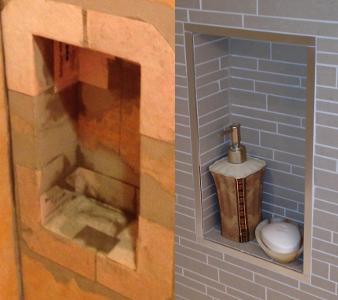 A better alternative
The image also shows our built-in tile border flange (or tile edge trim) which provides an attractive stainless steel border between the niche and tile, and saves your contractor the time required to install custom tile edge trim. Our solid welded accessories shelf doubles your storage space as a place for shorter items (razor and washing puff etc) and has draining holes to keep your soap dry.
The must-have shower storage fixture that might surprise you
The conventional, custom built tiled niche is common in most modern bathtub and shower surrounds, but it is quickly being eclipsed by the Redblock Stainless steel shower niche. This finished shower niche fixture is much easier to install than a conventional tiled niche, and completely compatible with all shower membrane systems. The homeowner can save time and money, and virtually eliminate the risk of water leaks. Easy, innovative, and beautiful; the Redblock shower niche.
See more related articles under these topics: