Inspirational Shower Niche Ideas (a valuable design resource)
Some useful and creative shower niche ideas to help you choose the right niche for your bathroom design.
If you are throwing around design ideas for your next bathroom remodel and you've thought about including a built-in shower niche, you could probably use some shower niche ideas. The first few ideas are designed to motivate you to make a grand statement in your new shower space! There are also some more practical shower niche ideas thrown in at the end. Read on….
If you need more info on shower niches sizes, styles and placement, read this article: Shower Niche Planning – Don't get stuck with a shower caddy
Stainless steel shower niche
Instead of a standard boring tiled shower niche, make a shiny design statement by installing a stainless steel shower niche. Some consider this type of niche to be more consistent with an industrial design theme, but in reality it matches well with all other "silver" fixtures. It looks particularly good with brushed nickel and stainless steel fixtures of course, let alone if you are getting into the growing trend of mixing fixture finishes. These handy fixtures can be installed much easier than most tiled niches, and can give your shower a real Wow factor. There are several to choose from but you should be careful to choose the type that is compatible with your shower waterproofing membrane (like the one pictured by Redblock Industries) to avoid problems with water leaks in the future.
Dramatic horizontal shower niche
Another fantastic shower niche idea is the long horizontal shower niche. These fantastic structures can span your entire shower wall, or even go around a corner. This type of shower niche creates a very dramatic feature in your shower wall & can be quite beautiful with some creative tile choices. On the practical side, they can also provide you with an immense amount of storage space compared to a standard shower niche. Including some LED strip lighting is another way to make this feature really stand out & also provide some very useful additional task lighting.
You should be aware that this niche will be more expensive to install than a standard tiled niche due to it's unique construction. An additional wall that contains the new shower niche must be constructed adjacent to the structural wall. This may not be possible in many shower alcoves, because of space limitations. However, if you can make it work, it can be spectacular.
See these articles for more Info on niche installation:
4 Big Shower Niche Install Mistakes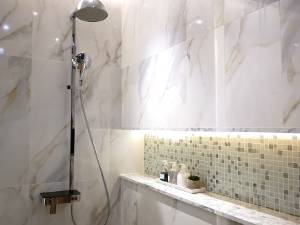 Vertical shower niche
If you can't afford the long horizontal niche described above, you can always decide on a large vertical tiled niche. It may not seem a lot different than the horizontal niche, but it really is. Expanding your niche upwards means that you can utilize the space between the wall studs without affecting the structure of the wall (unlike a horizontal niche). This makes it much more practical and much cheaper. Within the space you can even install shelves made of stone or glass to further enhance this already dramatic & useful new feature. Just keep in mind that the width of this niche can only be as wide as the space between two adjacent structural studs. This means that your niche will only ever be about 12 inches wide or less (generally speaking). Structural accommodations can be made to make this niche wider, but it can affect the structural rigidity of the wall if it's too wide.
Simple practicality
The most practical of these shower niche ideas is simply a choice of location for your shower niche. A great idea is to position your shower niche no more than 2 feet off the shower floor and out of the "splash zone". This niche height offers a perfect foot rest for washing your legs or for shaving. And if the shower niche is also designed to hold your razors and shave soap, all the better!
Armed with a few good shower niche ideas, you'll be better prepared to install the shower niche that suites your storage needs as well as your bathroom design scheme. Hopefully you got some practical ideas, and even some inspiration about what kind of shower niche you'd like to install in your new shower remodel project.
See more related articles under these topics: